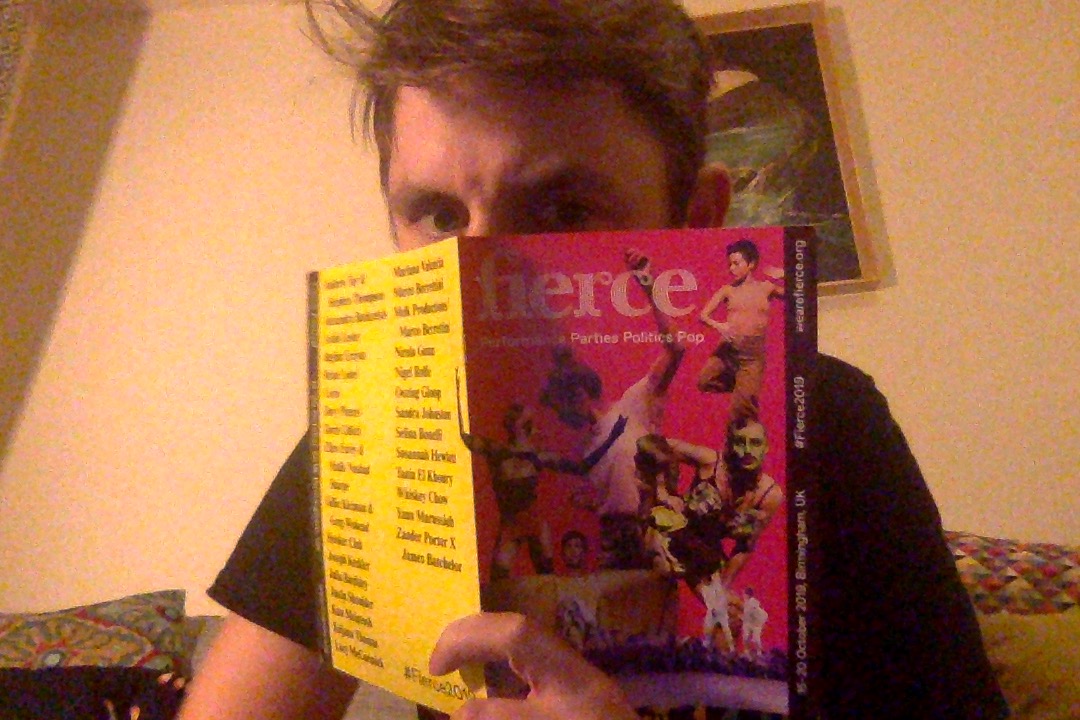 The Fierce 2019 programme is a bit of a beast so our Artistic Director Aaron Wright recommends his ideal schedule for making the most of it
When I curate the Fierce programme I think a lot about how the audience might move through the festival week, and what the best way for them to do that might be. As much as curating the performances in the programme, I also try to curate the audience experience.
To me festivals aren't primarily about individual shows as such (even though the festival is full of brilliant, standalone performances), but the accumulative effect of all the events together. Fierce plunges different pieces into conversation with each other. How we see and experience things is affected by everything we see around it too. By the end of the week, with such intense exposure to brilliant and progressive work, I know that audiences often come away from Fierce with a shift or sense of renewal within themselves – albeit a change in opinion, feelings of inspiration, solidarity and empathy, or just a transformed understanding of what art can be.
Whilst i'd love everyone to see the full programme, I realise its simply not an option for many people. However, if you are keen to see as much as possible then this is my suggested route for seeing pretty much everything. If you manage to see the lot – get in touch (special prize for you!).
We start the week with a storm of vibrant and unusual visual theatre at Warwick Arts Centre and end it with a melancholy dance trip at DanceXchange courtesy of Marco Berrettini.
(this schedule allows enough travel time between venues for shows)
Tuesday 15th October
Warwick Arts Centre Double Bill:
7.45pm – Justin Shoulder – Carrion
9pm – Davy Pieters – How Did I Die
tip: we're offering a special double bill ticket price for these two shows at WAC and we're even putting on a free bus to take you there!
Wednesday 16th October
7 – 11pm: A Very Grand Opening at
Birmingham Museum & Art Gallery (with a mixed bill of performance including Keijaun Thomas and Sandra Johnston)
tip: you might want to squeeze the 5pm 'In Many Hands' before this too, although we've suggested seeing it on Thursday here.
Thursday 17th October
1.30pm (or 5pm): Kate McIntosh – In Many Hands @ Birmingham Rep
5pm: Talk with Justin Shoulder & Matthew Stegh @ Medicine Gallery
7pm: Greg Wohead & Gillie Kleiman – Familiar @ Birmingham Rep
9pm: Ellen Furey & Malik Nashad Sharpe – SOFTLAMP.autonomies @ DanceXchange
10.30pm: Oozing Gloop – The Gloop Show
tip: if you wanted to see Sandra Johnston at 7pm who performs the second part of her piece which started the night before at BMAG, then you could opt to see Familiar on Saturday at 5pm instead and miss the 'On Swiss Live Art' talk. Doors for The Gloop Show are at 10pm but showtime is 10.30pm – Oozing plays again on Friday night if you'd rather see it then, it's possible to go from Miet to Oozing, as it's 11.30pm showtime for The Gloop Show on Friday.

Friday 18th October
2pm: Bag yourself a slot for Voicing Pieces by Begum Erciyas
4pm: Mariana Valencia – ALBUM @ MAC
6.30pm: Doris Uhlich – Every Body Electric @ MAC
8.30pm: Joseph Keckler – In Concert @ Birmingham Hippodrome
10pm: Miet Warlop – Ghost Writer and the Broken Hand Break @ Birmingham Hippodrome
tip: alternatively catch Mariana Valencia at 12pm on Saturday or on Friday 25th October at Arena Theatre Wolverhampton. There are slots for Voicing Pieces all weekend, so fit it in whenever you can.
Saturday 19th October
10am: Talk: Talking Fierce @ Albert House
from 12noon until 6pm: Brian Lobel – BINGE @ Albert House (BINGE runs Sunday too, so there's plenty of time to drop in)
2pm: Nigel Rolfe performance @ Arch 21
3.30pm: Andrew Tay & Stephen Thompson – Make Banana Cry @ BMAG
5pm: Talk: On Swiss Live Art @ Ikon
7pm: Nicola Gunn – Working With Children @ Birmingham Rep
8.30pm: Tania El Khoury OR Selina Bonelli (difficult decision)
10.30pm: Lucy McCormick – Life: Live! @ Quantum Events Centre
from 11pm: Club Fierce vs Hooker Club @ Quantum Events Centre
tip: if you've not booked for Tania El Khoury yet then you might be out of luck, but you could leave the Wednesday BMAG event early to catch it, as there are tickets remaining for that performance. You could also see Make Banana Cry on the Sunday at 12noon to make things less rushed, but you'd miss a talk at MAC. Due to the high volume of programming Saturday is the best day for a day trip.
Sunday 20th October aka Big Sunday at MAC!
12.30pm: Talk: Nigel Rolfe & Sandra Johnston @ MAC
from 12pm: Susannah Hewlett – The Great British Cack Off @ MAC
from 12pm: Julia Bardsley – AN APIAN PARADOX @ MAC
2.30pm: Yann Marussich – Bain Brisé @ MAC
5.30pm: Alexandra Bachzetsis – Private: Wear a mask when you talk to me @ MAC
7.45pm: Marco Berrettini – iFeel2 @ DanceXchange
tip: we've scheduled the final show so you can make final trains to London and other major cities afterwards…
Come to think of it, at the end of the day, when all's said and done, if the truth be told there's no right or wrong way to do the fest, so just dive in!
GOOD LUCK!