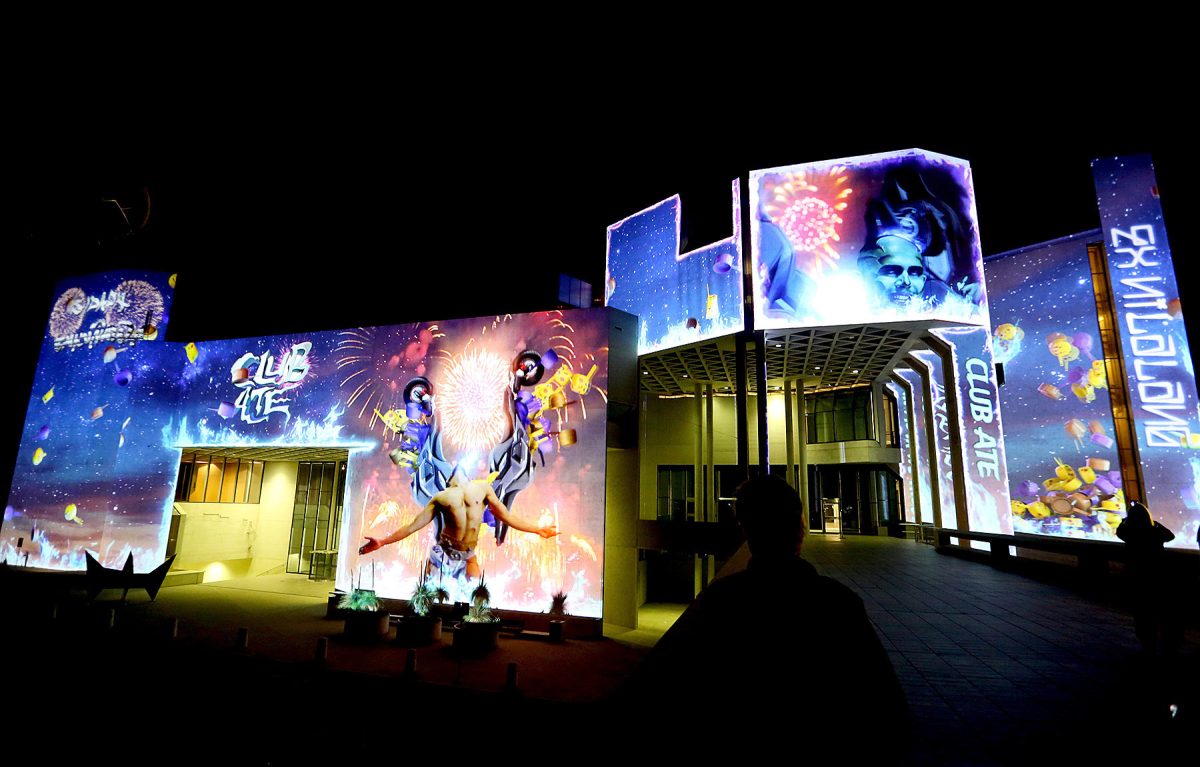 IN MUVA WE TRUST asks the question, "In the face of an uncertain future, how do we, as queer communities of colour, cultivate hope and create possibility?"
Drawing on Filipino folklore narratives, IN MUVA WE TRUST is set in the mythical Skyworld, a borderless space of potentiality and rematriation.
The work elaborates the way queer communities co-create alternative family structures centering the care practice of mothering and of radical sisterhood. Journeying through diaspora, memory and imagination, bodies becoming islands merge with religious and domestic motifs. Daughters of the diaspora dance visions of the future, both ancient and anew, collectively sharing a sense of survival and togetherness. Animist spirits of the underworld play alongside non-human kin.
In this moment of a social re-alignment, the immersive experience of IN MUVA WE TRUST reminds us of our power as a collective, inspiring an alternative approach grounded in respect, family and togetherness.

To hear more about IN MUVA WE TRUST and meet the artists, please join us for the Living Room Talks where Club Até will discuss the social and artistic practices which bring LGBTQ+ people together. Thursday 30 June 2022, 6.00pm – 7.30pm.
---
From Fierce Festival Artistic Director, Aaron Wright
Fierce has been following the work of Club Até, Justin Shoulder and Bhenji Ra, for several years. Individually and as a collective, they are positioned at the very forefront of contemporary art practice in Australia.
Fierce met Justin Shoulder at Fusebox Festival, Texas in 2018 and went on to present the European debut of his work CARRION at Fierce Festival 2019. Fierce instigated a residency at Battersea Arts Centre, London which led to future seasons in Kampnagel, Hamburg, Montreal Arts Interculturel and Palais De Tokyo, Paris.

Whilst on a research visit to Australia in 2020, for the Birmingham 2022 Festival, we jumped at the opportunity to collaborate with Club Até. For over 20 years, Fierce has been promoting Birmingham and the region as a vibrant, diverse and tolerant place. We bring the world to Birmingham, and Birmingham to the world.
In 2020 Club Até's video artwork IN MUVA WE TRUST premiered at the National Gallery of Australia. It was complemented by a community led performance event celebrating diversity and togetherness. Immediately, we saw the potential of the work to connect Birmingham's queer community and celebrate diversity on a grand scale.

This support was echoed by the British Council and the Birmingham 2022 Festival. IN MUVA WE TRUST was one of a handful of works selected for the UK/AU season, showcasing the most innovative artist communities from each nation.


"Through the Cultural Programme we aim to curate a festival of work that takes this moment to consider all of our places within the Commonwealth, and to address the uneven hierarchies of perspectives on the Commonwealth which have traditionally manifested. 

Club Até's centring of Filipino folklore narratives and LGBTQIA+ communities powerfully achieves this. We are particularly interested in how the moment of the Games is engaged with right across our young and diverse region. The transformation of Birmingham Museum and Art Gallery into a public canvas to disrupt the flow of the day-to-day is the ideal call to action."– Raidene Carter, Executive Producer | Cultural Programme & Live Sites | Birmingham 2022
---
Club Até is an art collective led by interdisciplinary performance artists Justin Shoulder and Bhenji Ra. They frequently collaborate with associate artists Tristan Jalleh, digital video artist and Corin Ileto, composer and electronic music producer. They actively seek out collaborations with members of the queer Asia Pacific diaspora in Australia and the Philippines with the objective of finding collaborative meeting points, to celebrate voices of diversity.
Club Até have been invited and commissioned to perform and exhibit their works across Australia and internationally, in a diverse range of spaces and settings including festivals, independent and institutional galleries, theatres, nightclubs and outdoor environments.

Their work has been presented at the Sydney Biennale Nirin 2020; Enlighten Festival 2020, National Gallery of Australia; Asialink Residency hosted by Green Papaya Arts, Philippines 2018; Balik Bayan, Blacktown Arts Centre 2017; AsiaTOPA 2017 ACMI; M+ Museum Hong Kong; Fault-lines: Disparate and Desperate Intimacies, ICA Singapore 2016; 8th Asia Pacific Triennial of Contemporary Art, Gallery of Modern Art Brisbane 2015-16; MCA Sydney and Art Gallery of NSW.
Club Até was birthed in response to Typhoon Yolanda, which hit the island of Leyte in the Philippines in 2013. A group of Filipinos living in Sydney at the time, decided to pull together a fundraiser.
The fundraiser turned out to be a pageantry night that we named Club Até. In terms of thinking about sisterhood and the relationships we have with the community in Tacloban, we decided to call it Até, because Até means big sister.
A lot of relationships were built through that space. And at the same time, we began to receive invitations to perform at galleries and festivals, like the Asia-Pacific Triennial, and these spaces became a way to tell the stories belonging to our community. Over the last five years it's grown to be this meeting of live events and visual arts work. So, what we do now is a combination of these practices.
The internal drive to create is a deeply ancestral drive. It comes from understanding that art practise sits alongside cultural practise. And that to be a current day ancestor of our culture means that we need to create works that speak to our experience of the now and the present.
---
JUSTIN SHOULDER | Co-Artistic Director, Club Até
Shoulder is a self described storyteller, working as: performer, director, curator and events producer. His practice fuses live performance, sculpture and moving image. His work explores alter personas based on queered Filipino myth and embodied through hand crafted costumes, prosthesis and sculptural pieces. Shoulder has been co-producing events for the LGBTQIA+ / QTIPOC community for the last 15 years (Monsta Gras, Pink Bubble, Club Ate Balls + more) His work has been presented at Palais de Tokyo, Paris; The Prague Quadrennial of Stage Design; Performance Space, Sydney; Artshouse, Melbourne; Fusebox Festival, Texas; Museum Macan, Jakarta; Roskilde, Denmark; M+ Hong Kong; Singapore Art Museum and the Asia Pacific Triennial 8, Gallery of Modern Art Brisbane. 

BHENJI RA | Co-Artistic Director, Club Até
Ra is a performance and interdisciplinary artist. Her practice combines dance, choreography, moving image, installation and club events. Ra trained in dance in New York and competed in the voguing ball scene, before returning to Sydney to create House of Slé Australia's first voguing house and performance collective of emerging, multicultural, trans and gender diverse artists. In 2018 she was the commissioned artist for the Keir Choreographic Award, Dancehouse Melbourne. Ra has curated Sissy Ball at Enmore Theatre, presented by the Sydney Gay and Lesbian Mardis Gras and Red Bull Music. Ra has carved out a significant space for the QTPOC performance community in Australia. 

TRISTAN JALLEH | Digital Video Artist
Jalleh is a digital video artist and music video director who works between Melbourne and Hanoi. Jalleh's work has been exhibited nationally and internationally in galleries, art institutions and festivals since his first exhibition at 2012 Experimenta Biennial of Media Art, RMIT Gallery. His work has been programmed at Vincom Centre for Contemporary Art, Hanoi; National Gallery of Australia, Sydney Contemporary, Carriageworks; Powerhouse Museum; ACMI; Asialink Australia; and Federation Square, and he has produced work for Red Bull Music, Boiler Room, Splendour In The Grass, Sugar Mountain, Mona Foma, Soft Cell and Sissyball.

CORIN ILETO | Composer and Sound Designer
Ileto is a Filipina-Australian electronic producer, composer and performer working in the field of performance art, sound design, theatre and club spaces. Her productions are an assemblage of converging styles moving somewhere between IDM, grime, EBM, trance, and baroque-laden ambience. As a composer, Ileto works across a broad spectrum ranging from video to theatre. Recent projects include Justin Shoulder's AEON† premiere Liveworks Festival 2020, Sydney Biennale 2020 and Sky Blue Mythic, a performance work by Angela Goh Sydney Opera House 2021.