Birmingham International Dance Festival is upon us, inspired by themes of imagination, body, mindfulness, and digital art, showcasing great choreography and opening up new and surprising ways for you to experience dance. For the finale to the festival, we've teamed up with BIDF to bring you Club Fierce:Dance Amnesty. This will be a night of spectacular performance and DJ's through which you can throw down your own notorious moves. In preparation for the club night, Maud (Fierce's latest intern) asked Last Yearz Interesting Negro/Jamila Johnson Small and Brian Lobel some questions about their upcoming performances for Club Fierce and BIDF.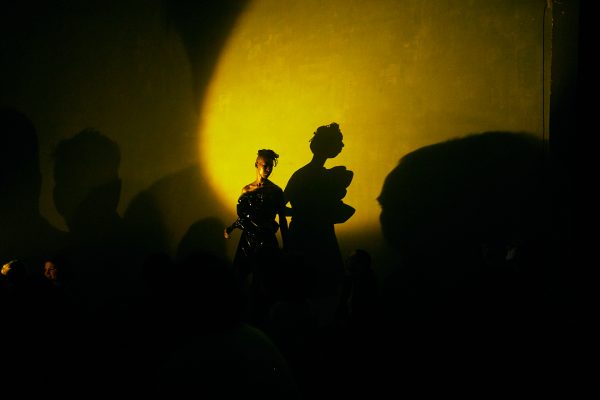 FuryZ Last Yearz Interesting Negro with Rowdy SS. Photo by Ayka LuxFollowing her sold our World Premiere at Fierce 2017 LAST YEARZ INTERESTING NEGRO/JAMILA JOHNSON-SMALL presents new performance Fury1 in collaboration with Rowdy SS who plays a live sound set. They are coming straight from performances at the Palais De Tokyo in Paris.
Does your piece inspire new ways of seeing dance? What new ways of seeing would you like to inspire? Or participation; how would you like an audience to respond or participate in your dance?
To be honest, I am always very sceptical of this idea of 'new' and wouldn't want to claim that for anything I might be trying to propose through my work. Of course there are things – behaviours, expectations – that have become conventions in regards to watching 'contemporary' dance that I think can limit potentials of experience, exchange and thinking, that I work to disrupt…but what happens for anyone in that gap the disruption might create, I couldn't say! We could say that Fury1 is an ongoing experiment, a live formulation or unfolding of our responses to/ experiences of the different environments (including people) in which we come to perform, and each other.
You like to keep your dancing flexible for the time and space in which you perform, are you looking forward to dancing in 'Club Fierce' what vibes do you expect to feed off of, how do you think it will affect your piece?
I don't know that I would use the word flexible! I think it might be misleading in the way it suggests an openness and adaptability for someone else's purpose. I think it's more that the dancing happens in relation to the choreographic score as it meets each environment or context and tries to find a way to inhabit those spaces. We were definitely excited to experience this work in a club context. No expectations!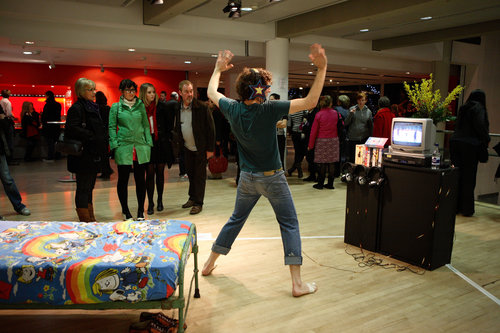 BRIAN LOBEL's Hold My Hand and We're Halfway There; links Depression- era Dance Marathons, where contestants danced until they dropped in pursuit of fame and fortune, to young boys dancing in their bedroom after school, where they too dance until they drop, often hoping for fame and fortune. For this performance, Brian recreates his childhood bedroom and invites us to watch or join in with the marathon.
Have you tried 'Hold My Hand We're Half Way There' in a club setting before? 
The first major installation of Hold My Hand was at Shunt and ran from 10pm-2am every night for 4 nights.  On bare rock floor. In a club. Where everyone was drunk. So I'm used to doing it in such an environment. https://www.youtube.com/watch?v=-Vcv-8GF69M
I've performed the work in public squares (in Italy and Thailand), fancy dance venues (Sadler's Wells), as a 5 day installation in an abandoned shoe store in Lower Manhattan, White Nights all night parties in Brighton and Brussels, and lots of different places… I like when the crowd is different but I am basically doing the same thing, it changes the energy of the piece in unpredictable ways.
Do you think, in this setting, you'll ever really be dancing alone? 
I usually dance alone for about 60% of the time. People do join me, but very often, people do their own thing on their own tv sets.
Has dancing ever become a chore for you through doing this performance? – do you think you could join the dancing after your performance?
Yes, the dance always becomes a chore, and this is the purpose. While it's fun, it's exhausting, and smelly, and sweaty, and draining and thrilling. It's the kind of exhaustion which is really difficult to tell whether it is worth it or just painful. This is the tension which I'm trying to bring forth in the world, and the metaphor that I think connects the work to the isolated queer body in a bedroom – are they alone, are they lonely?  Are they isolated from others? Or are they isolating themselves?
What's your favourite dance move you've learnt from copying the musical routines? Could this be done on the club dance floor? 
My favourite dance I've learned is Rich Man's Frug – https://www.youtube.com/watch?time_continue=39&v=3YS0ENmt9lE – which is probably the most amazing dance scene of all time. And yes, of course any of these moves can (and are) used on dance floors.  Ugh. I love it.
What advice would you give to the Fierce clubbers?
My advice? Focus on the camera shots, not just the moves. If you're watching Muriel's Wedding (Waterloo Scene), or Jesus Christ Superstar (the Superstar scene) you'll find the dance moves even more fun if you think of playing to an invisible camera capturing the sickest angles. 
Other performances at Club Fierce include SAFFRON and JAMES BATCHELOR. DJ's include JONJO JURY and TE TE BANG. MC'd by the fabulous YSHEE BLACK.
Tickets are £5 advance from HERE
Club Fierce: Dance Amnesty is a part of the BIDF's Saturday Session Special Offer which is a full day of events and performances for tickets and info please click HERE.