An event by Kitty Finer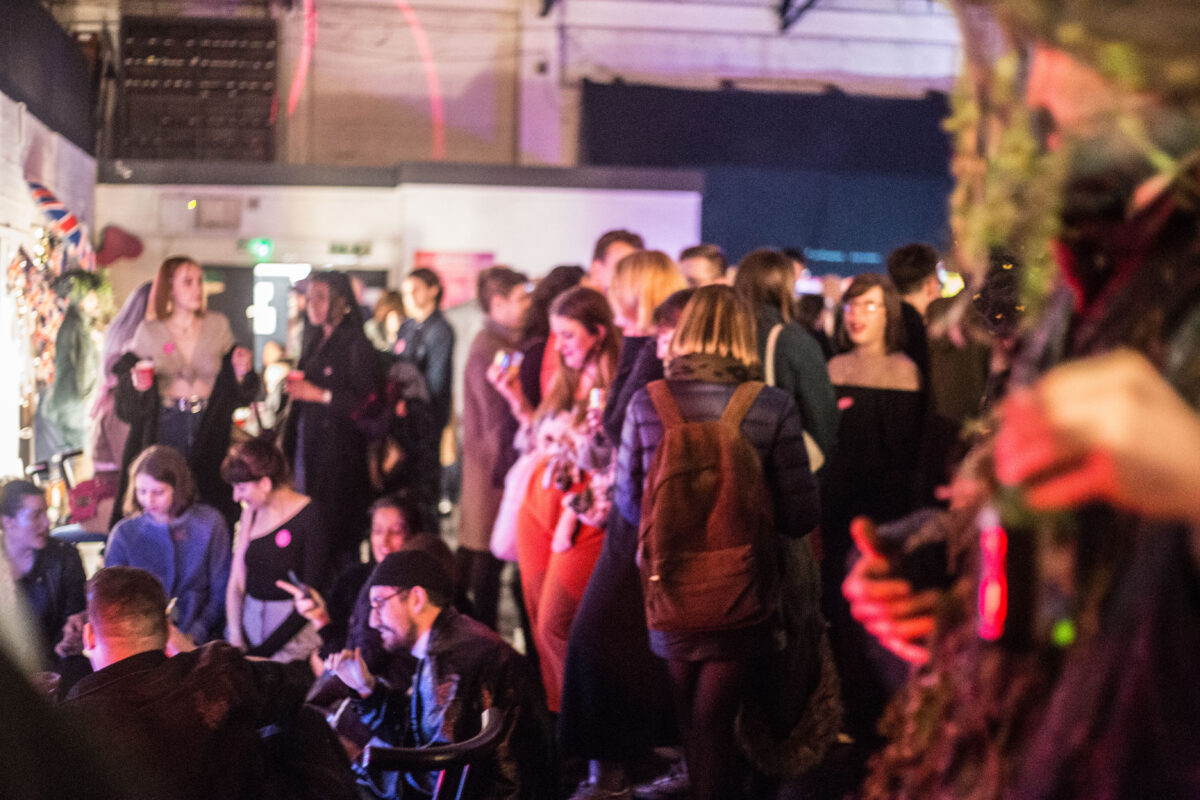 On the 1st of October we are bringing back the hugely popular Artists Behind Bars event as part of Digbeth First Friday. We are now looking for artists to run bars.
Artists Behind Bars is an event concocted by Kitty Finer that brings together artists to build, install, host, and run their own bars. For one night shift only, the bar is the work of art, the artist is the bartender, and the spectator is the punter.
Long before the term "pop up" popped up, Kitty's many and various makeshift shops, bars and galleries appeared under the influence of interim interventions, the often illicit social spaces of raves, fiestas, carnivals, and beach bars.
Artists are invited to make a bar which can be as simple or extravagant as they wish as long as all artists take into account that this is not a money-making event. It is not guaranteed that the bars will make a profit, but one can usually cover expenses from drink sales if the bar is built with a resourceful and (financially) inventive approach (cutting cloth according to your means) using whatever you have to hand. The project is conceived so that participating artists only need to prepare on the day of the event, gathering items to build their bar from what is available to them taking a sustainable approach that doesn't see them buying lots of materials. The event is an exhibition of sorts, with the bars a sort of group show of sculptures.
Fierce will provide each artist with £200 to negate the risk on any bar stock purchased in advance. This should also cover a small day's wage too as you keep all bar takings! Last time all the bars sold out of drinks and the most efficient bars were able to make around £500 profit. Bars should reflect the DIY nature of the event and the small honorarium offered.
This event curates itself whilst it goes along, like pitching up tents in a camp site- we will all pitch up and if certain bars don't work alongside each other then we can work together to shuffle around- All designated bar areas will have a power supply so each bar can light itself up as all main lights in the space will be turned off so that the bars provide the illuminations. We also advise that being a bartender can be a lonely business so do think about getting someone to run your bar with you.
Artists can choose whatever drink they wish to serve, but we ask to limit number of drinks – pick one or two and do them well. All bars and drinks will vary.
Furthermore, each bar will have a 30-minute slot to control the jukebox in keeping with the vibe, ethos or theme of their bar (simply provide a playlist, DJ or even perform if you like).
We will have a morning and afternoon to set up our bars in the space – we will also take down our bars at the end of the night and you can choose when you do this- it is fine to pack up your bar during the event. We will provide a PA system and ice for bars who need it.
Examples of past bars include French Riviera's purple rain bar (tribute to Prince), Louisa Robbin's Hard As Nails Bar (nail bar serving watermelon cocktails), Brian Catling put himself behind literal bars – held himself prisoner whilst serving sprits, Benedict Drew served drinks from the inside of his jacket, Turner Prize winning Tai Shani served shots of sambuca, sans toga from a Greek column and Marcia Farquhar hosted a champagne speakeasy where punters could sit and hear a story or two.
Fierce is looking for artists who are interested in the spontaneous structures of hospitality and the (part-time) role of bartending. We are particularly interested in hearing from artists who have a performance element to their practice, whether this be from a live art, theatre, dance, visual art, or other background.
We encourage you to think about access in relation to your bar, and we have a small additional budget available for artists to make their bar more accessible if needed.
How to Apply
Please fill in this form by 11:59pm on Monday 6th September 2021.
This is an opportunity for artists in the West Midlands. Artists must be 18 years or over. This event will take place on Friday 1st October from 8.30pm until 1am at 77A Upper Trinity Street, Digbeth.
Proposals should include 150 words, or a 3-minute video or voice note (which can be uploaded to the form) on your initial ideas for the bar, as well as a link to your artist website or a CV or some examples of your work. These don't need to be totally fixed and are welcome to change (last minute bars are often the best bars) but we need to check that we won't have six sports themed bars all serving warm lager and crisps. We have tried to make this a very simple application process – please don't spend ages on it. We are looking to find four or five artists to run bars through this open call, alongside four or five invited bars.
Fee: £200 to cover all materials and taxes, artists keep all the money they make on their bars. This £200 is inclusive of any travel or accommodation as this is an opportunity for artists in the West Midlands.
Deadline: Monday 6th September 2021, 11:59pm (we won't penalise applications a few minutes late but please respect your peers by not sending applications hours or days late)
Event: 1st October 2021