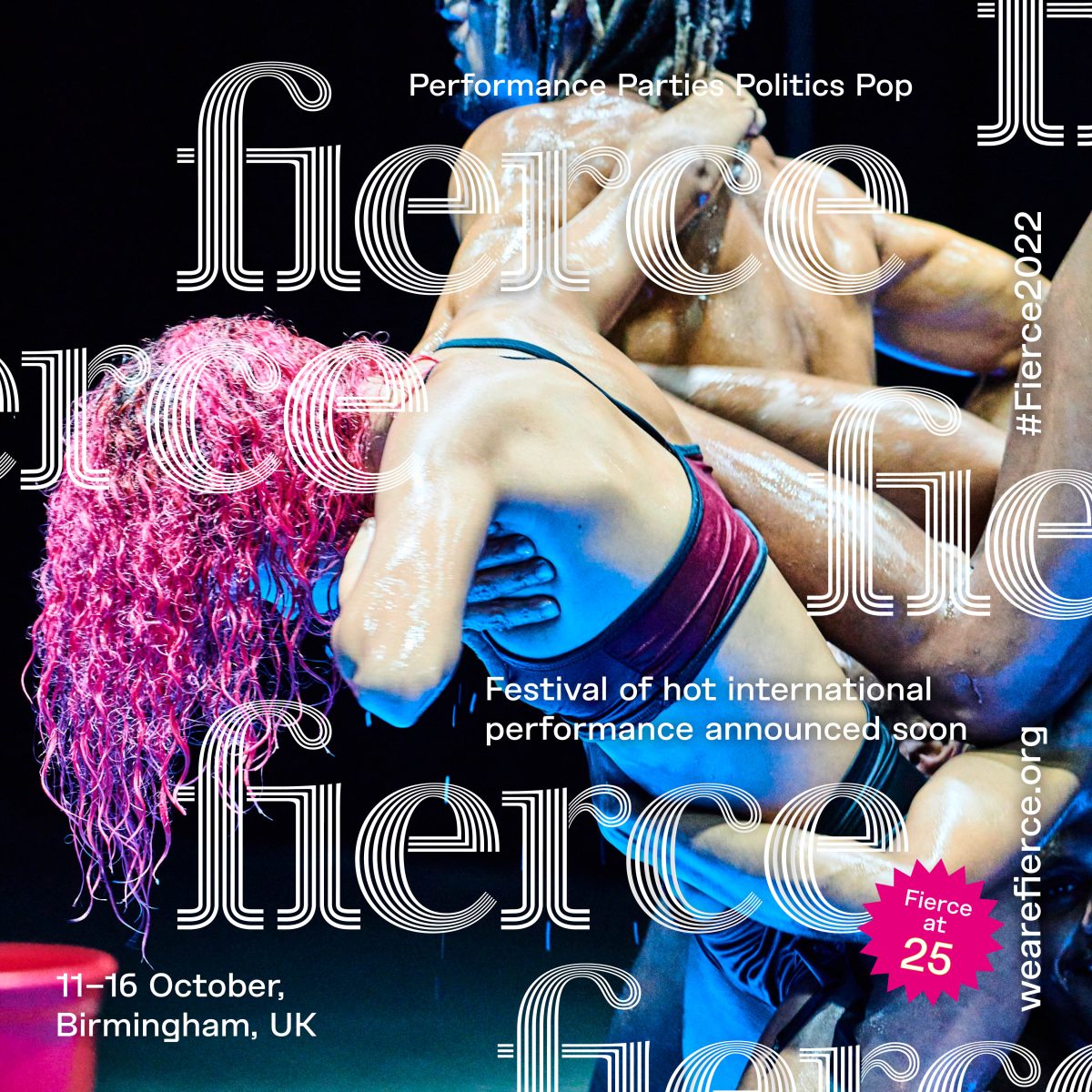 GABBER, GARBAGE & GOBLINCORE, CHILDREN READING PALMS, TEENAGERS SINGING SONGS OF LOVE & SEX, SCARECROWS FROM FRANCE, WOLVES FROM FINLAND, AN OPERA SINGING COW FROM ZURICH, A GIANT LATEX PIG FROM TOKYO & THE MAKING OF PINOCCHIO! JUST SOME OF THE DELIGHTS OF THE 25th ANNIVERSARY FIERCE FESTIVAL
NINE UK PREMIERES FROM INTERNATIONALLY ACCLAIMED VOICES IN THEATRE, DANCE & PERFORMANCE ART INCLUDING PHILIPPE QUESNE (FRANCE), ALICE RIPPOLL (BRAZIL), CRAZINIST ARTIST (GHANA), CLARA FUREY (CANADA), SAVAGE K'LUB (NEW ZEALAND), SAEBORG (JAPAN) AND A FOCUS ON WORK MADE IN FLANDERS INCLUDING LISA VEREERTBRUGGHEN (GHENT) AND FRANCESCA GRILLI (BRUSSELS)
THE 2022 PROGRAMME FEATURES THREE WORLD PREMIERES FROM LEADING ARTISTS OF TOMORROW, EXPLORING CHILDHOOD TRAUMA, THE BOUNDARIES BETWEEN OUR BODIES AND THE ENVIRONMENT AND DONNA HARRAYWAY'S THEORY OF THE CHTHULUCENE. THE WIDER PROGRAMME HIGHLIGHTS INCREDIBLE WORK BY TRANS ARTISTS AS WELL AS CENTRING A NUMBER OF NON-HUMAN PERSPECTIVES
THE BIGGEST INTERNATIONAL PROGRAMME EVER INCLUDES 50 EVENTS AND ARTISTS FROM 16 COUNTRIES ON SIX CONTINENTS
THE FESTIVAL MARKS 25 YEARS OF CELEBRATING OUTLANDISH, ALTERNATIVE, OUTSIDER VOICES THROUGH INTERNATIONAL PERFORMANCE, PARTIES AND POP IN BIRMINGHAM AND THE WEST MIDLANDS
The 25th anniversary festival will stage incredible works in unusual places. Fierce 2022 will explore themes including First Nations politics, non-human perspectives, rituals of cleaning and healing and gender identity. Through a line-up of joyful, compelling and subversive World and UK Premieres, the festival will highlight new performance practice from around the world, with UK debut performances by many acclaimed international artists as well as unveiling a number of very special homegrown Fierce commissions. The programme brings together a diverse range of artists and voices from around the world, united by their radical, insightful and political approaches to creating art.
The announcement of the 25th anniversary Festival programme comes in one of the most ambitious years yet for Fierce, having produced two major projects at Birmingham Festival 2022 this summer. Key To The City reached over 50,000 people and gave citizens new encounters across their city and the Healing Gardens of Bab brought queer artists from all over the Commonwealth to the West Midlands to interrogate thier relationships with the British Empire during the Commonwealth Games.
Artistic Director of Fierce Aaron Wright says: "The enfant terrible of the British Festival scene may well be coming of age, but we're thoroughly refusing to grow up! It's already been a huge 25th anniversary year for Fierce, but we still have our biggest programme to come. Postponed from 2021, this programme has been three years in the making and represents some of the most exciting performance being made in the world today. We can't wait to bring this world class programme to audiences across the West Midlands."
PROGRAMME HIGHLIGHTS INCLUDE:
FIERCE FESTIVAL 25 TAKES PLACE 11-16 OCTOBER 2022 ACROSS BIRMINGHAM AND THE WEST MIDLANDS WITH TICKETS ON SALE TODAY. BOOK NOW!