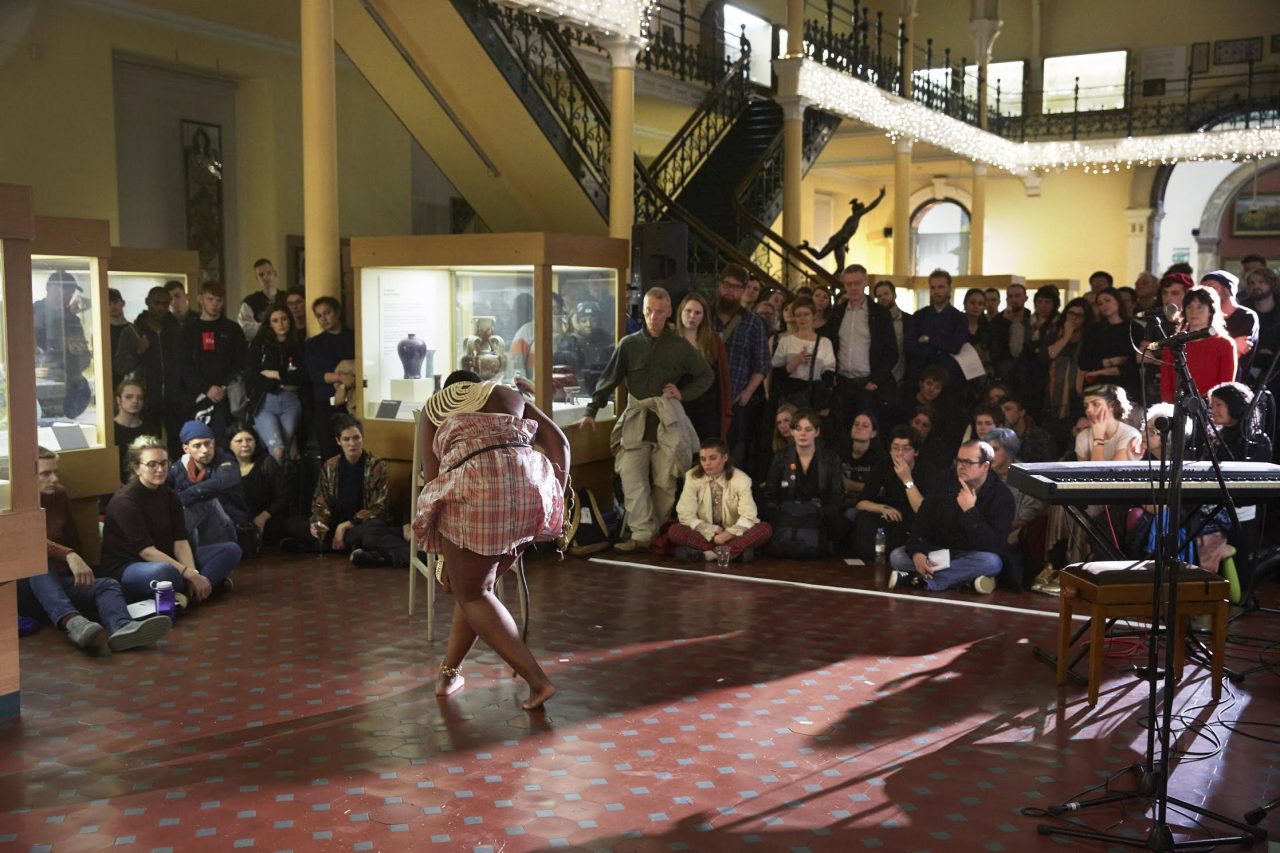 Fierce FWD is a development programme for artists working in Live Art and contemporary performance. Fierce FWD offers the opportunity for artists to develop an idea for a live performance/experience alongside a programme of mentoring, peer discussion, workshops and research trips.
The programme is for emerging artists based in the West Midlands (in the counties of Herefordshire, Worcestershire, Warwickshire, Staffordshire, Shropshire and the West Midlands), outside of full-time education. In keeping with Fierce being a Live Art festival this scheme is aimed at those developing projects for live performance and experiences. We define Live Art broadly and expect to receive a broad range of proposals encompassing performance art, body art, contemporary performance, expanded choreography, post dramatic theatre, socially engaged projects, art activism, progressive cabaret and club performance, one-on-one performance, durational work, site-specific projects, immersive parties, performative events and other experimental live practices.
We take a similarly broad approach to the term 'emerging', this scheme isn't intended just for young people and recent graduates, but anyone that self-defines as emerging. Perhaps you've recently started experimenting with performance in your practice, perhaps you're re-emerging after a hiatus, or shifting focus to make your practice more of a professional commitment: explain why you consider yourself emerging in your application.
Alumni of Fierce FWD include acclaimed artists such as Selina Thompson, Malik Nashad Sharpe, Demi Nandhra and many more.
The Offer
Fierce will select up to 6 2019 /20 Fierce FWD artists. Each artist will receive:
A micro-bursary of £500 to try an artistic experiment, develop a piece of work or conduct some research towards a project
A 1 week studio residency with our partners University of Birmingham
Mentor time with the Fierce Artistic Director and Fierce Producer
Access to Fierce Festival 2019 with an intensive programme of shows and talks
Access to a range of workshops from nationally and internationally significant artists
A group trip to a key national event
To be part of a peer support group with regular meet ups
A presence on the Fierce website, with links to your own sites, creating a clear association with Fierce
How to Apply
Please send proposals to office@wearefierce.org by midnight, Sunday 24th March 2019, with the subject line 'Fierce FWD 2019'. Proposals should be up to two pages (max 1000 words) or up to 5-minute film or voice recording which includes:
An introduction to who you are, your practice and what you're interested in artistically
Your reason for applying for Fierce FWD and confirmation you are based in the West Midlands
What you hope to get out of being part of the Fierce FWD programme
Where you see your practice in 5 years time
Confirmation you are available during the Fierce 2019 Festival dates (14 – 20 October 2019)
In addition, you may also include:
An up-to-date CV
No more than 2 video clips of your previous work
No more than 8 images of your previous work
No more than 3 links to your website, blog or other online work
We particularly encourage applications from queer and disabled artists and artists of colour, as well as artists who might not have taken a conventional higher education route.
We may not be able to provide detailed feedback on all proposals. We also advise that due to other schemes in the region Fierce FWD is not best suited for playwrights and traditional theatre makers who are better supported via other scheme's in the region such as Rep Foundry.
If you have enquiries about the scheme email your question to contact@wearefierce.org and we will reply as quickly as possible.
Deadline
Sunday 24thMarch, deadline 2019
Image
Vivian Chinasa Ezugha, Fierce FWD Alumni, performing at Birmingham Museum & Art Gallery as part of Fierce Festival 2017.