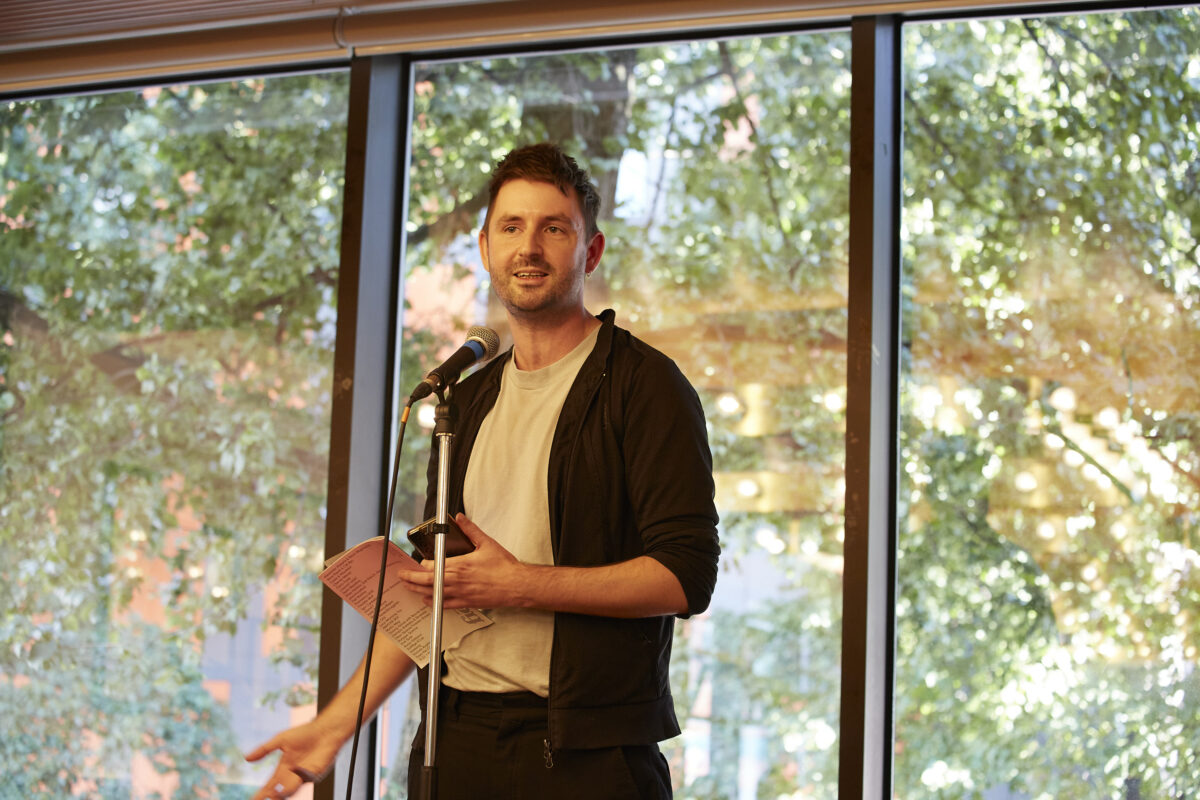 After seven successful years much-loved Fierce Artistic Director Aaron Wright is moving on to become Head of Performance and Dance at the Southbank Centre. Everyone at Fierce is thrilled for Aaron, and wish him the very best in this new venture – they will be at his side as friends and champions. 
Joining Fierce in 2016, Aaron has worked to build a strong team around him, securing two rounds of Arts Council England NPO funding, building company reserves and developing an office base. He safely steered the organisation through the COVID 19 pandemic, before a triumphant return to in-person activity with 2022 being a record breaking year for the company.
Aaron has led three outstanding editions of Fierce Festival in 2017, 2019 and 2022. In 2022 Aaron led special Fierce projects, Key to the City, a major participatory public realm artwork by Paul Ramírez Jonas and The Healing Gardens of Bab, a three week programme exploring colonialism and queerness, as part of Birmingham 2022 Festival. Over the years he has developed a bevy of club nights, including Kitty Finer's popular Artist Behind Bars series. During Aaron's tenure Fierce has commissioned acclaimed performances such as i ride in colour and soft focus no longer anywhere by SERAFINE1369/Jamila Johnson-Small, Life: Live! by Lucy McCormick and The Making of Pinocchio by Cade & MacAskill which have all toured internationally. Many notable international artists made their UK debut performances at Fierce during Aaron's tenure including Erin Markey, Andrew Tay, Clara Furey, Justin Shoulder, Marco Berrettini, Alice Ripoll & Cia REC, Preach R. Sun, Mariana Valencia, Quarto, Davy Pieters, Begüm Erciyas and Francesca Grilli.
Aaron will leave Fierce to join the Southbank Centre in late April. Fierce's Executive Producer, Pippa Frith, and General Manager, Catherine Groom, will step up as Co-Directors in the interim, working closely with the board to explore succession models and plans before recruiting a new colleague to become part of the organisation's exciting future.
Aaron says:
"It has been the honour of my life to steer this remarkable organisation for the past seven years. It has exceeded all of my wildest expectations. I've made lifelong friends and will miss seeing the Fierce team daily, deeply. I'm incredibly proud of all that we've achieved, none of which would have been possible without Pippa Frith and Catherine Groom: my two closest accomplices and the brilliant Fierce board members; past and present. I leave full of bizarre anecdotes that I will dine out on for years. If you see me, do ask me about Trevor the Fly Man.
The Fierce Artistic Director role is surely one of the most exciting jobs in the UK arts landscape, offering huge artistic freedom but with real support from an engaged and experienced board. It's allowed me to see the world whilst building relationships with some of the most exciting artists, at the cutting edge of practice. It's a life-changing role for someone with buckets of enthusiasm. I can't wait to see who will lead Fierce astray next."
Chair of the Fierce Board, Paul Burns says:
"Aaron is an incredibly gifted curator with a rare set of qualities. He has trust in his own instincts and a bravery to try ideas that seem impossible to realise; care and kindness for the artists and colleagues he works with; and a passion for the organisation, for the work it presents and for its deep rootedness in Birmingham. All of these can be seen in the festivals and projects Aaron has led since starting at Fierce in 2016, but can also be seen in the collaborative, adventurous and confident organisation he leaves behind – all qualities that have flourished under his leadership. I think I speak for the board, the team and the city's arts sector when I say he will be hugely missed, but we look forward to seeing what incredible things he'll make happen at Southbank Centre."
Executive Producer, Pippa Frith says:
"Aaron is the very best curator I'll probably ever work with. His passion coupled with humility and care has meant he has introduced me to so many fantastic artists in the past 6 years of working together. It is my privilege that he has become one of my closest friends, and so I am incredibly excited to see what he does next.
Bitter-sweet with a heart full of love, and memories of the things we built together that will be hard to top."
General Manager, Catherine Groom says:
"It has been an absolute privilege to work with Aaron and to be a part of realising his unequalled artistic vision. Over the past 6 years, our little team has grown together to achieve some incredible things and become exceptionally close in the process. Our loss is Southbank Centre's gain, I am excited to see what he can do there."