Fierce Trailblazer: Saturday 5th March
Eitan Buchalter's intervention, Veer, re-directed pedestrians especially footie fans through VIVID and outside the Blues local, The Forge Tavern.

Festivities kicked off with Juneau Projects performing at the Flatpack & Fierce Festival joint launch.

Later that evening The Irrepressibles were magnificent at Town Hall Birmingham.

Symphony of A Missing Room, by Lundahl & Seitl opened to the public and ran throughout the week. It was a choreographic and audio work recreated especially for Birmingham Museum and Art Gallery, and had its UK premiere at the festival.

The installation 'Prayer' by James Webb, drew together audio recordings of vocal worship across the city of Birmingham and played them simultaneously in the Old Library in Digbeth.
Weds 23rd March
Fierce had two performance at MAC on this day: Narrating Our Lines by plan b & Rat Rose Bird by Sheila Ghelani…
This animation was generated by the movements of walkers in Birmingham carrying plan b's GPS trackers. The data has been visualised by Peter Vasil.
Detail from Rat Rose Bird. This scene was relayed by live video so the audience could see disturbingly close.
Thurs 24th March
From Thurs 24th to April 2nd, Manu Luksch and Mukul Patel, offered kayak rides in exchange for conversation to guests to the city and local residents as part of a residency at Grand Union.
Action Hero's Gemma Paintin gives it large performing Frontman at the Rainbow on a memorably electric night.
Friday 25th March
Dominic Johnson's Departure is about to begin in this shot. Over the course of the installation his hand was tattooed by the renowned Alastair Binnie.
Later, following a procession to AE Harris, we savoured a night of club performance titled Human Salvage. . .
It included the unforgettable spectacle of Dominic's reveal in his second performance of the night. . .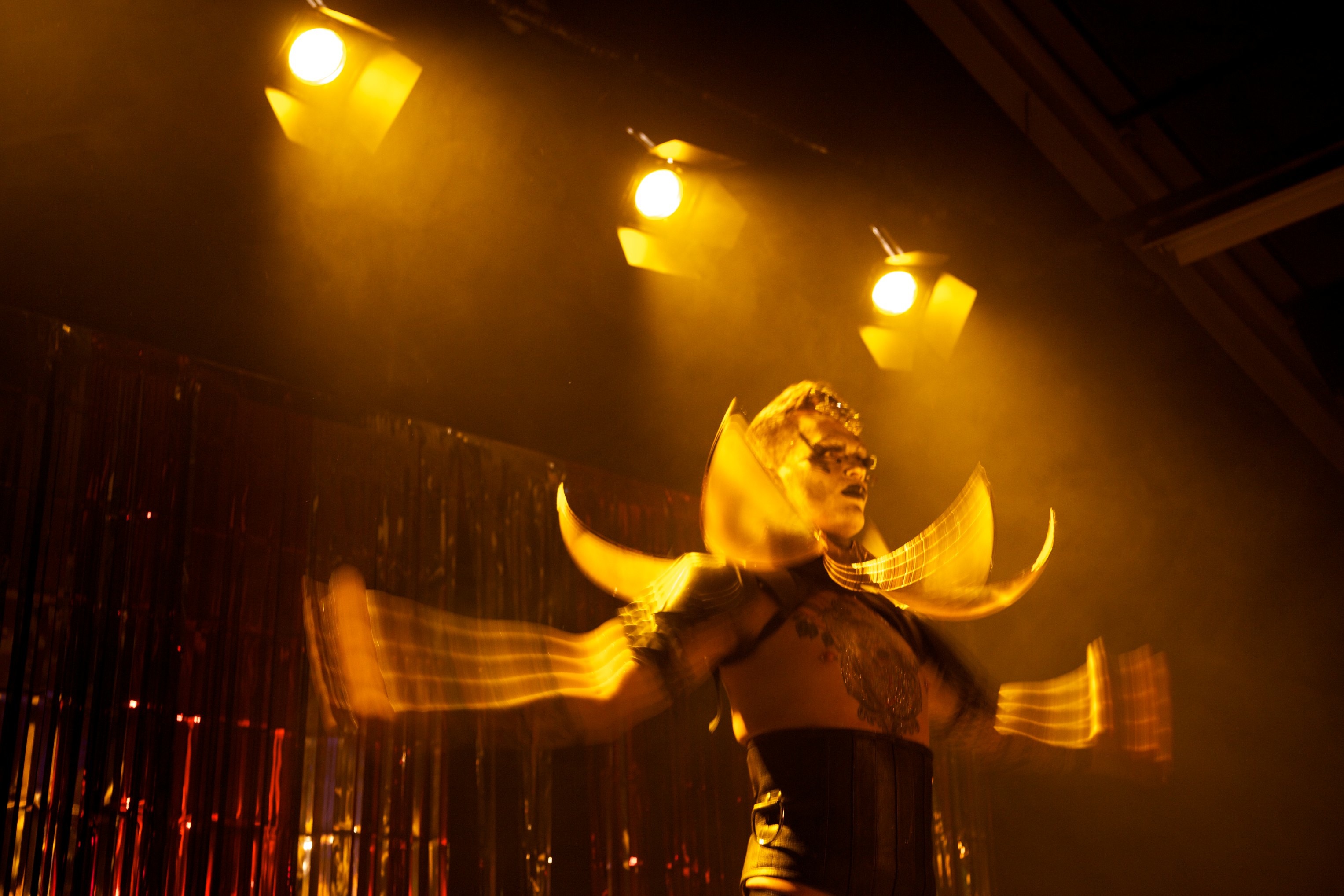 and Lauren Barri Holstein was on egg-cracking form. . .
London outfit, Manflu, were rocking and got us dancing into the small hours of the night.
Saturday 26th March
Architecture collective EXYZT organised Burning'ham's  feast, pyros and party-cum-rave-in-a-container.
Sunday 27th March
The festival was rounded off with a sumptuously decadent closing brunch courtesy of Companis. . .
And a little heartbreak from Sheila Ghelani, in the performance installation Covet Me Care For Me at Trove.
* * *
There was a great review 4 star review of Fierce Festival in The Guardian.
More in-depth critical responses to the work can be found at contemporary art platform 'this is tomorrow'
On June 18th we'll announce the Fierce Festival Caravan of Artists 2011 – 2012 who will form the core of next year's program at our Start Party. It will be free and welcome to all so come along. . . Otherwise see you at the next festival in March 2012.