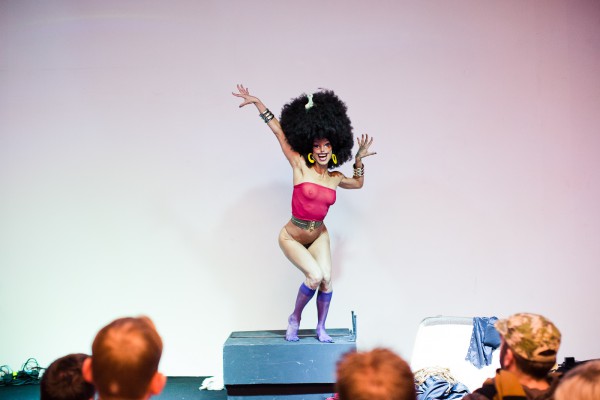 "There's a dedicated informality about Fierce Festival that I find very appealing. Here are some words about my 24+ hours in Birmingham tracking
Saturday Night October 4
I arrived in Brum on Saturday night only semi-adequately prepared to wend my way to a venue (The Edge) new to me in a part of town (beyond Bullring in a southerly direction?) to which I'd never been. Thank you, man behind glass at Moor Street station, and, even more, woman at info desk at National Express for helping me find the fest hub on Cheapside in Digbeth. Nocturnal streets, mainly deserted save for the skateboarders just outside the venue doing their thing on a fallen-down bit of wall. A chicken factory nearby, too (I could tell by the smell) and, later, a rat scurrying across the road…
What I happily witnessed at The Edge was New York soloist Narcissister. The peculiar and politically-charged joy of transformation. Film routines alternating with two live 'turns.' A lithe, shapely-skinny woman whose face we never saw. A mask-wearer in voluminous costuming. A quick-change artist. The garb bulks her up. The masks-upon-masks hide as they reveal. She's all-woman but also, when she wants to be, all-man. (Nothin' like a prosthetic penis or a cardboard cut-out scrotum…) The basket as a symbolic container. Vaseline to grease the possibilities of expression. She's young, she's old, she's kinda perfect… She's black, she's Arab, she's white, she's everything and anything in-between. She's a living doll(s. The climax: nearly-naked, she sports a giant Afro containing bangles, heels and a smart little yellow purse while pulled from lower 'orifi' is a transparent tube top, skirt and scarf. All of which she dons and is this ready to face (or not) the world!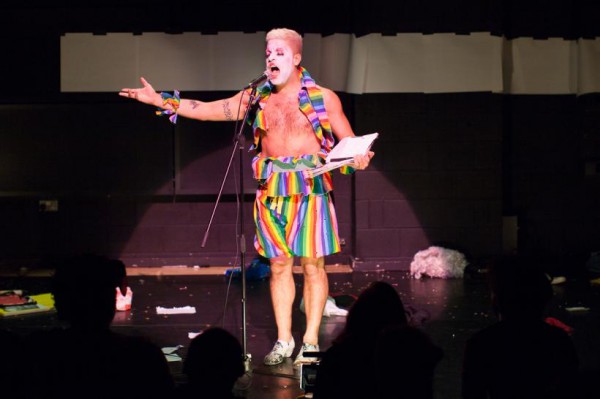 Sunday, all day, October 5
Officially I start this leisurely yet replete day with Tania El Khoury's Gardens Speak in the A.E. Harris Factory. I don't want to give away too much about this installation-performance, especially because it continues right through to the end of the festival. What can I say? It's an earthy, quiet quest. This touching work will, I suspect, stay with me. It carries with it an aura of grief; a sad anger about the effects of injustice on the 'other side of the world' is brought that much closer thanks to the experience. Someone died on November 28, 2102. That story is in my head now; a life no longer lived was/is on my skin. I got to write something, and I got to lightly cleanse a part of me…
A resonant work, then. As was Sarah-Jane Norman's Concerto No. 3 in the (hard to find, I have to say, at least by me) Birmingham Conservatoire. I almost gave up on this. (Would better signage have helped?) Glad I didn't. What I saw/heard: a portly man at a piano in a low-lit recital hall. One of several players, as it turns out, taking it in shifts to 'tackle' the ivories. The music – Rachmaninov, although I didn't know this having read next to nada in advance – was halting at times, and at others lilting. There was a mike dipping into the body of the piano, catching an echo from the playing. The effect? Timeless, as in somehow out-of-time. And sort of sleep-inducing although I didn't really nod out, meaning I kept listening as my head and upper body fell into a slumberous position. I so liked this listening. What quickened my appreciation was reading the hand-out afterwards of Norman's brilliantly written musings on failure and family and her own would-be child prodigy status, and fear and fearlessness and (my interpretation) the present-day scaling of a difficult piece of music as some kind of warts-and-all Everest. A reclamation. I also enjoy use of the term 'post-virtuoso.'
In between these two substantial slivers of Fierce came lunch courtesy of a project by Mammalian Diving Reflex. The latter is a Canadian company I first heard about in connection with a performance piece in which one lends one's head and hair to child barbers. Eat the Street, by way of contrast, is a meal – in this case at a friendly Mexican restaurant called Bodega – in the company of a group of school-age food critics. I sat beside 11 year-old Sofian, and across from I-didn't-ask-his-age Jacob. Various other adults were in our midst too. We dined. We talked. The boys took notes. There were several tables of boys and adults. I'm curious what the former will write, and if Bodega will nab any of the awards to be bestowed upon five possible winning eating establishments at a ceremony this coming Saturday. Socialisation between grown-ups and kids is a good thing, as is developing a shared sense of discernment among people no matter what their age. It was a fun and certainly tasty adventure.
Back to Digbeth area. Another hunt for a seemingly elusive location. Again, signage might've helped but I trusted my instincts and also referred to the map in the big pink-hued Fierce programme. I found Harry's Taxi Repair not long before Dina Roncevic's Car Deconstructions was due to end. Didn't mind that, nor returning to this gritty part of town in daylight to cursorily observe girls in mechanics' onesies taking apart a car. Evidence of their efforts littered the floor. The task was left incomplete. (Very subjectively I was reminded of '60s girl-next-door bombshell Ann-Margret in the Elvis Presley race-car flick Viva Las Vegas, a key not-guilty pleasure from my childhood…) The atmosphere at Harry's was pretty good, albeit low-key. I picked up a few brochures advertising all the wares on offer, my intention to pass one of these to a visual artist pal who might be amused or diverted by the organising principle.
Last but not least, Miguel Gutierrez's Heavens What Have I Done at Patrick Centre, DanceXchange in the Hippodrome. He's a restlessly engaging performer, and the piece itself deceptively shambolic. Talking a mile a minute, Gutierrez appears to make a mess but is actually in total control of everything that happens on that bit of the stage he shares with us (most of the audience, that is, seated on the floor). Political comments and asides about the economics of art-making are tossed out, rather like the coins that he lets fall jingle-jangle to the floor. Things – costuming, equipment (including a looping device that he plugs into a speaker), books he claims to have only half-read, if that – spill out of suitcase or backpack or even the datebook he shakes out onto the floor, letting loose taped-up sheet of notes or postcards. Meanwhile mezzo-soprano Cecilia Bartoli can be heard singing via a laptop. (The music credits say 'Vivaldi and others.') Gutierrez, eventually got up like a gay pride float (his own description) in Machine Dazzle's rainbow-coloured bits of fabric topped by a less-cheap Marie Antoinette-style wig, talk/sings along with her. This was the loud bit, although I'm not sure quite why it needed to be at quite that volume. Flashing lights ensued, and a kind of helter-skelter breakdown/bursting of bonds that had Gutierrez hurtling to the other side of the space before returning to the mike and collapsing slowly to the floor with its phallic tip pressed to his lips so that he could coo his ('dying' or undying) gratitude to us for being there…
I didn't have much time to digest Gutierrez's pretty fiercely entertaining one-man show. There was a train to catch. In retrospect I wonder about the rest of Fierce, and who the festival attracts (already converted art-makers and punters alike?) and what the aftereffects of each work will be."
Donald Hutera
October 6, 2014