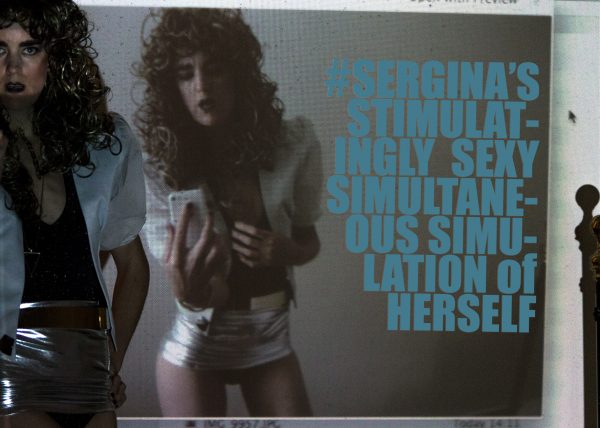 #Sergina is a gender-ambiguous, multi-locationable drag queen performed by Elly Clarke (mostly) and others, who sings and performs songs both online and off about trying to love, exist and get laid in a world that is increasingly experienced through screens. In a society that is increasingly narcissistic, #Sergina is everybody's #selfie, and no one's. She is up for grabs and she is untouchable. She is an image and she is flawed (and confined) by her flesh/s. She is a self-sculpted c-celeb. Her self is worn (out) on different bodies. She competes with her own image, and usually loses.
#Sergina's Stimulatingly Sexy Simultaneous Simulation of Herself a 15 minute rehearsed live performance of Sergina's songs performed simultaneously by 5 different bodies performing from their own localities, observed by live audiences, linked up by technology, through which it is also broadcast. In every location, #Sergina will be half obliterated by her mirage images projected onto her from different corners of the world. It will be a huge IRL Google Hangout, where every body is a simulation of an original whose authenticity it is itself dubious.
Local Times and Venue Information:
BROOKLYN, 3PM
Raul de Nieves at Secret Project Robot Art Experiment
Join Facebook Event here!
BELGRADE, 9PM
Vladimir Kriscanski Takac at G12 HUB)
Join Facebook Event here!
BERLIN, 9PM
Liz Rosenfeld at Monster Ronson's Ichiban Karaoke
Join Facebook Event here!
BRISTOL, 8PM
Daisy Johnson at The Island
Join Facebook Event here!
MANCHESTER, 8PM,
Elly Clarke at The Lowry
Join Facebook Event here!
If none of these places are nearby you can watch online Via This Is Tomorrow and Sergina's Youtube Channel! Elly Clark will be launching Shout Festival from 8pm at BOM this Thursday 12 Nov.
@thisistomorrow
@Bomlab
@elly_clarke