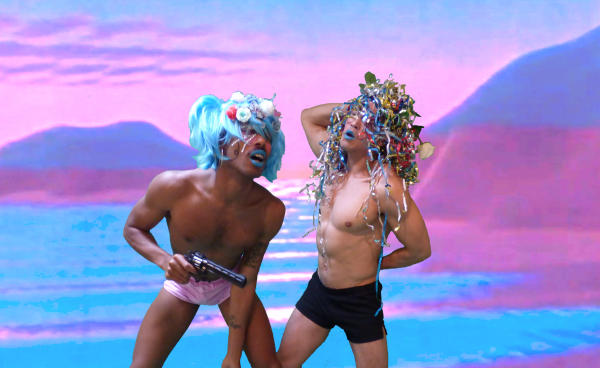 We had a chance to ask some of our Fierce FWD artists (who will be performing their work at this years festival) some questions so we can get to know them a little better, their muses and musical tastes ahead of their shows this week.
The Fierce FWD artists have been developing work over the past 6 months working in collaboration with the Birmingham Repertory Theatre. In addition to working with a major theatre organisation there is a strong emphasis on going to see work as part of the programme which has created pathways for Fierce FWD artists to be exposed to a number of research trips to Live Art events around the UK, including; SPILL Festival of Performance, In Between Time: Bristol International Festival, Steakhouse Live and Arika.
Malikiscrycrycry also known as Malik Nashad Sharpe
Show: $elfie$
When: Thursday 19th OCTOBER
Born in New York City but raised in London, Malik is a choreographer whose work explores themes and issues from sexuality, race, to the deep dark web and nationalism. Malik performs under the moniker Malikiscrycrycry and will be sharing his work $elfie$ at Fierce festival 2017.
$elfie$ is a work built out of physical and internet investigation and was initiated by my desires to create an environment for which we can all abandon failed nationalist projects and is third/fourth in a series of five works around the ontologies of blackness and queerness.
Who or what  inspires you at the moment?
Memes, cybernetics, affect theory, allostatic load, choreography as a social proposition, mirrors, vapourwave, the idea that gender is ending, alt-lit, QTIPOC, assemblage
What was your first thought when you woke up this morning?
Authoritarianism has laid bare the intentions behind neoliberalism is a pretty honest way–It is so difficult to call out any system of oppression right now because the people who most ardently defend freedom of speech are those who have no basic understanding of the concept and they are trying to stay in power. Those historically in positions of power are those who continue to hold that power no matter how many revolutions or uprisings, no matter what "progresses" we have made, but at what point, at how many generations must one exist in this country, or any country, to be seen as an equitable member in society? I mean, there is nothing equitable about the world–no equality–nothing. It doesn't exist in a world defined by runaway capitalism. But a phobic majoritarian culture isn't okay with permitting those from minoritarian cultures to hold positions of power, and then utilise police states in order to maintain those hierarchies. We are all scarily complicit in the maintenance of a police state, but we don't realise that it is just being refined and exacted in order to take rights and power away from those who have historically gone without. Ideally, I would hope that we would just collapse our concepts of power so that we can dream about other systems and ways of being–because at some point everything will be destroyed. I choke on toxic air in London every day. I wonder if Choreography can do things.
What are you currently listening to?
I often listen to things on repeat for long periods of time, on repeat at the moment is: ACTRESS, The Other People Place, Kelela, Ugly God, AK420, Larry B, Rico Nasty, and Bali Baby.
What are your top 3 Fierce Festival 2017 picks?
There is so much amazing stuff happening at FIERCE like how am I supposed to choose but ok here we go–My top three pics would have to be:
Last Yearz Interesting Negro's "i ride in colour and in soft focus, no longer anywhere"
Andrew Tay's "Fame Prayer/Eating"
Colin Self's "Siblings"
Read more about the world premiere $ELFIE$ and buy your tickets here
Website: maliknashadsharpe.com
Instagram: @malikiscrycrycry
Louisa Robbin
Show: To Care
When: Saturday 22 October
Louisa is a live artist and writer, a sad girl who projects her feelings on to glitter and gold and a Queer Black British (African) woman who is forever ticking boxes.
Her latest work 'to care' explores her depression and the desperate need to keep going, keep doing and be more.
Who or what  inspires you at the moment?
The rise of the black alternative! I'm loving the representation of the awkward black girl, the black nerd, the black and lgbtqi. I've always got my eyes on platforms that raise and cherish these profiles. They remind me daily to continue to be who I am, unapologetically.
Incase you're curious, here's a few folks I'm talking about…
Michela Coel
Lena Waithe
Galdem
BBZ
What was your first thought when you woke up this morning?
I can barely think in the morning to think of what I'm thinking of…
 What are you currently listening to?
Moses Sumnney – Aromaticsm
Kelsey Lu – Church
Kadjha Bonet – The Visitor
Kendrick Lamar any song, any time.
And anything poppy from the 90's-00's
 What are your top 3 Fierce Festival 2017 picks?
 Eca Eps – From Chibok to Calais
Demi Nandhra – I'm sick and tired of being sick and tired
Jamilla Johnson Small – i ride in colour and soft focus, no longer anywhere. Last years interesting negro
 Louisa's 'to care' is presented with Bedlam festival and Fierce. You can find out more and buy your tickets To Care here
 Website: louisarobbin.tumblr.com
Instagram: @louisa_robbin
Vivian Chinasa Ezhuga
 Show: Ghana Must Go and Britney Spears
When: Saturday 21 October
 Vivian is an interdisciplinary artist, working in live art, film and drawing.
Born in Nigeria, Enugu state, Chinasa Vivian Ezugha makes work that attempts to connect her to her cultural heritage and to the questions she is asking about her identity as a black woman living in England.
 What inspires you at the moment?
Right now I am inspired by a group of students that am working with in Germany as part of a symposium called ACT. MOVE. PERFORM. Their commitment to trust me and my crazy ideas brings joy to my heart. To perform is something special, but to inspire others is powerful.
What was your first thought when you woke up this morning?
I woke up this morning feeling very down. I have been dealing with a lot and this morning it came back to me like a flood. But then i went downstairs saw the awful  breakfast and thought, ahhhh life isn't so bad! being a bread must be a painful thing.
What are you currently listening to?
Am listening to Fela Kuti and lots of afrobeats because i like to dance.
What are your top 3 Fierce Festival 2017 picks?
Eca Eps
Jamila Johnson
Anne Rochat
Vivian's Ghana Must Go and Britney Spears is a world premiere, commissioned by Fierce You can catch her performance as part of Be The Change: An Edwardian Tea Room Late programme. Read more about this  here
Website: ezugha.tumblr.com
Twitter: @VEzugha 
Emily Warner
Show: Untitled
When: Sunday 22 October
Emily warner is a multi-disciplinary artist using her background in visual art to explore art and create work that activates relationships and interactions with people and place.
Her selected work 'Untitled' is a wide and open research enquiry into the nature and existence of water. This is a theme that if often sourced to be present in Emily's previous works.
 Who or what  inspires you at the moment?
 I've dipped my toes back into study mode this autumn, so am continually inspired by my current encounters with Jen Harvie – in all formats. Jen is a Professor of Contemporary Theatre & Performance, and I'm really switched on by her podcast series – Stage Left – where she exposes the working practice of a range of artist/performers. They're honest, insightful and reassuring – and I particularly enjoyed this one https://soundcloud.com/user-148494537/episode-1-sht-theatre
What was your first thought when you woke up this morning?
 Where am I?… Go back to sleep!
What are you currently listening to?
Someone sat next to me on the train listening to Shania Twain. Real loud. With another guy snoring over the top. That aside, before I left the house this morning I was listening to a 90's jungle set by Kode9.
What are your top 3 Fierce Festival 2017 picks?
Clearly a challenge to whittle to a selection of 3.. in no particular order I have picked:
Louis Vanhaverbeke – Multiverse
(cus… i'm really into toolkits and how not to use them)
Adam Kinner & Christopher Willes – Listening Choir
(cus… any chance to converse with Birmingham streets in new ways)
Andrew Tay – Fame Prayer / EATING
(cus… i'm interested in not fixing things that are wrong)
  'Untitled'  will be  performed as part of the Everything Fits in the Room showcase, read more and buy tickets for this show here.
Website: emily-warner.com
Twitter: @emilykwarner
Fierce FWD is a development programme for emerging artists living or working in or originally from the West Midlands. The scheme is aimed at those developing performance and Live Art.  Fierce FWD is a proud and integral element to us as we value the importance of providing a platform for new artists to come through and give them the space to nurture new work, so that we can continue to push the culture forward in a relevant and meaningful way to society.
Fierce FWD is generously supported by Jerwood Charitable Foundation. You can read more about our programme here