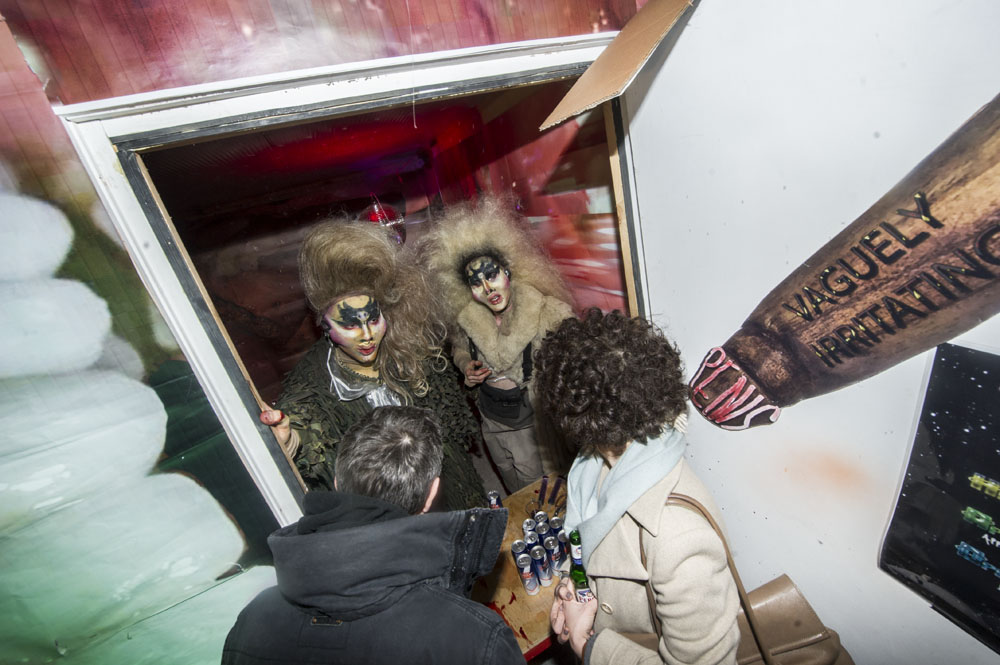 We are excited to reveal the full line up for this years Artists Behind Bars, join us this Friday 1st October as part of Digbeth First Friday?

We are down to the last few tickets for this so don't miss out! Don't forget – Refugees and asylum seekers go free and we are also operating a free 'skint list' for those without the funds to attend. Email contact@wearefierce.org to confirm your place.

1. Quick Duck TheatreSubLime
Insta: @QuickDuckTheatre

Birmingham's least-qualified health and beauty technicians invite you to SubLime, an elite spa resort offering an array of dubious care packages, each guaranteed to stimulate little to no effect! Brought to you by a team of delusional, deceitful, deranged amateur healthcare professionals, guaranteed to leave you slightly less calm than when you arrived.

2. Cathy Wade + Black Hole ClubInsta:
@cathy__wade / @blackholeclub
Party like it's 2019 A bar of multiple personalities, serving equal measures of Hi-Vis realness, all day spreadsheet zoom marathons, and imminent gentrification nightmares. Part uber bougie artisanal craft meets there's a cashpoint a mile away facety car park shenanigans. We are the bar of your dreams, fancy a shandy?

3. Temporary Cruising Zone
Insta: @temporarycruisingzone
Temporary Cruising Zone

The Temporary Cruising Zone bar is a tribute to the gay saunas, leatherdyke bars and queer fetish venues that have been lost over time due to rent hikes, moral panic and the AIDS crisis. Expect red lights, free safe sex supplies, backroom bops, poppers and drinks inspired by the hanky code. Hosted by O. and delivered as an extension of the queer play party of the same name.

4. Waj Hussein
Insta: @wajhuss3

#play43 SLE4Z3#
++close eyes + haunt urself++ in search of :: #ple4sure#3dom#play43 touch2touch giveit2me
[] escape nowhereS infinity [] fall back in to the night
##you#cant#find#me## under strobe light —— bad*boy dream*boy —— beautiful thing, sweet thing —— waste me . sedate me . violate me . degrade me :: everything*sexxxy
destruction in2 satisfaction
show me what ur made of #freedownload

5. Ellis Miles Stewart
Babstation
Insta: @ellismilesstewart

XXX hey caller, you've reached Babstation. LIVE for one night only — i'm here just for you and only you. XXX 0121-01-10-2021 £££

6. Liz Ord
The Winners Only!™ Bar
Insta: @lizord

You're probably DEFINITELY A WINNER baby… So why not show it off?!The Winners Only!™ bar is a place where you too can be an OPULENT DELUXURY WINNER with more TROPHIES, AWARDS, SASHES AND CROWNS than you can shake your jewel-adorned sceptre at!The Winners Only!™ bar brings you a LUXURIOUS and VERY DELUSIONAL space where everyone WINS and everything is about YOU (for as long as it takes you to pose for a photo and finish your expensive drink).You'll be APPLAUDED, WHOOPED* and served CHAMPAGNE** in your very own Head in a hole Winners landscape, no toxic wieners allowed*!! YES!
*AS LONG AS YOU PAY US
**OR SOMETHING THAT LOOKS LIKE IT
***anyone within the winners only bar™ zone is a winner™ – the concept of loosing is relegated to far far away.

7. Mojere Ajay
Insta: @Mojere.Jpeg
Have you tried?

"Oh dear…you're…disabled? Well, have you tried…fixing it? My brother's, uncle, cousins hairdresser tried yoga and it worked wonders!"
Have you tried is a bar full of all the obnoxious remedies people have offered me as a disabled person over the years. Come get your chakras aligned! Get rid of all that toxic 3D matrix energy, it's bringing you down babe, that's why you're so sick! Don't bother waking up at 6am doing sun salutations and mainlining sea moss gel- just come to my bar because I have tried it all!

8. Lilith Laceration
In Low Spirits
Insta: @herelieslilith_
Twitter: @herelieslilith

In low spirits is a bar shrouded in mystery and the occult, tormented by what lies on the other side. Come and see what messages and foreboding words the (not so great) medium Lilith has for you.

9. Albert Smith
A Taste of South Africa
Albert Smith shares stories of South Africa alongside traditional music and tasty vetkoek dumplings


10. Round Lemon
The 258th Gathering of The Four Saints Of The Yellow
Insta:@round__lemon

The year of the lemon is upon us and we are here to spread the word. The Four Saints of The Yellow invite you to join us to hear the gospel of the Lemon God and the Orange Devil. Become part of our gathering through the sacrificial lemon ceremony.