Welcome to Unrestricted View, a series of written responses to Fierce 2017 from local writers.
Response to Saturday 21 October, Fierce 2017 by James Kennedy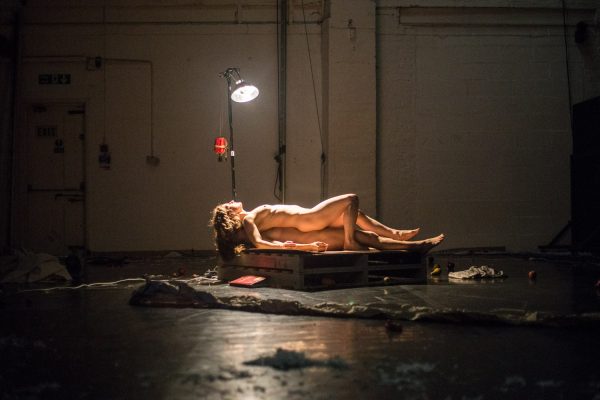 This Ritual Was Not An Accident
I was invited to review the performance of Andrea de Keijzer & Erin Robinsong's "This Ritual Was Not An Accident" as part of Fierce 2017.
After dressing appropriately and braving the West Midlands edit of Storm Brian, I arrived to see that the performance had moved from Stryx had been moved to Rogueplay Theatre within Minerva Works. Inside the venue, we were greeted by the director and asked to fill in answers to the following questions on a piece of paper:
Name; Date of Birth; What are you wearing? Accident history; What's the last thing you remember; What's a song that you know?
I was mystified why they wanted this information, but I complied, and we were led into the main theatre space. Sitting on chairs there was a great triggering smell of damp bedsits in Moseley.
In front of us, one of the artists was lying down on a bed, her head sticking awkwardly up facing us. She read out the names of those who had handed in their notes in, sharing our personal and private facts with each other. Nervous laughter of recognition came out from us as she went through the register.
When she finished, hands grasped the side of her head from an awkward angle. Her head slowly rose up from her shoulders. In fact, another body was underneath, dictating the movements, until they settled down, so all you could see were their hands. Joined together, these hands made movements to simulate copulation, to a sperm meeting the egg and fertilising in the womb to make an embryo, alternately making imitations of flowers blossoming and blooming.  Their hands touched the senses on their bodies, to smell, to hear, to touch, to taste and to smell. Bodies were formed, and the information was to be digested.
De Keiljzer and Robinsong sat down, and started to transcribe the notes that we had given them earlier. They were written onto a laptop which we could see projected on a screen, and as they were projected, they were shredded. Our shredded lives and rituals appeared as a snow drift in front of us, sprayed out over the projection, burying them. A copy of what they had created was printed out, and sealed nside a red box with many padlocks.
Our society's sensory bombardment with memory and sharing information was prevalent in the performance, and, in the next recital, what was more noticeable was the fact that the most vivid memories were associated with the weather. The shredded memories were emptied out on the space in front of us, and blown with a leaf blower onto a black drape to the right of the stage, our case studies and discarded memories buffeting into the artists and sticking to them.
These shards of memories becoming ever fierce as the storm breaks gave the impression of a separate entity manipulating every moment and decision.  As humans, we talk and communicate with this inner entity, mimicking its movements and following its instructions.  De Keijzer and Robinsong construct a house and get in together. These are our homes, full of rituals and memories that we have built, providing adequate structure before the storm breaks. The house collapses, and all that was left was us and the artists amongst the rubble. Forming a circle, we are invited to take part in a ritual, to blow up a balloon and place a pin, next to it, moving it ever closer. Some of us pop it quickly, others let it go. Our fears and rituals within this situation, and within life, dictate what we do.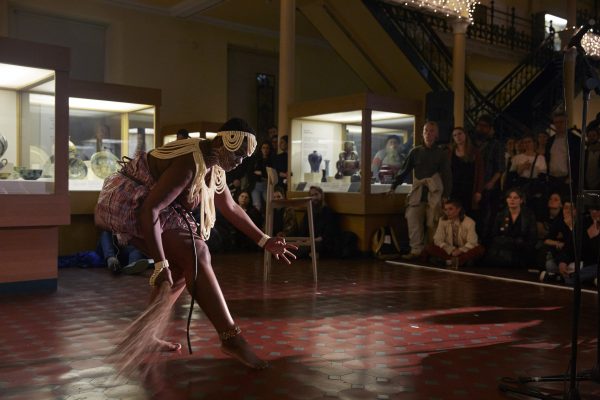 Be the Change
I was invited to review the event with Fierce in collaboration with Free Radical "Be The Change" at the Edwardian Tearooms as part of Fierce 2017.
Free Radical are an art activism platform created from the Beatfreeks Collective who formed in Birmingham in 2013. The collective are working towards the mission of "Fuelling conversations and concepts that dare people to challenge the way of the world. " Free Radical who want to "Engage; Empower; Educate and Equip." With Aaron Wright's opening salvo at the Festival Hub that Fierce 2017's mission would be to "Provoke; Politicise and Party" it would seem that the combining the two would be an excellent collaboration
That evening was certainly very busy, with the delightful Edwardian Tea Rooms in the Birmingham Museum and Art Gallery being used as the central hub. The soundtrack was certainly set to "party" with 80s brilliance such as Whitney Houston's "I Wanna Dance With Somebody" and drunken singalong classics from Oasis and The Beatles, interspersed with more up-to-date tracks by Nicki Minaj and Princess Nokia, who I remembered from her performance at Supersonic 2017 where she told us all off for not being her usual sort of audience, advised us not to look at her,  and disappeared off the stage after only  20 minutes  leaving us all in a state of puzzled bamboozlement.
Several of the booths in the room were used for "Artist Speed Dating", where those present could chat to inter-generational experts in their field such as the rapper, poet and musician Dizraeli; Gabbidon, a founding member of the legendary Birmingham reggae band Steel Pulse, the acclaimed graffiti artist Mohammed Ali, and the poet Shagufta K Iqbal.
Coming out the Tea Room, I made my way to observe the first performance, which was an installation by Reetu Sattar entitled Sokol Dukher Prodip: the unsung song. Participants were invited to walk up to Sattar and place their hands on hers, which she had coated with henna. In joining hands with Sattar, we would be sharing strength, and on finishing, our own hands would be stained, creating a memory that would live on.  This action would generate a sound blasting from the installation. We would stand in silence until the noise was over.
Going back to the Tea Room I noticed that people were getting ready to take part in Noemi Lakmaeir's We are for you because we are against them, which saw eight diners fitted inside a sculpture based on the Weeble, a  1970s children's toy. I had tried to fit in one before the dinner, and found it incredibly restrictive; my head and arms were fine, but my legs were squashed and crossed, and it would have been remarkably difficult to eat a delightful three course meal with excellent matching wine whilst stuck inside one of these contraptions. In this way, the audience analysing and watching the diners eating filled me with anxiety. This was exactly what Lakmaeir intended; to raise important questions about the body and voyeurism, and also attacking pre-conceived notions of disability.
We then were invited to see what I thought was the most powerful piece of the evening; Vivian Chinasa Ezugha's Ghana Must Go and Britney Spears. For me, it was very difficult to imagine this performance occurring at any other time, yes, this was performance art delivered using the body as the medium, but I certainly haven't seen such a visceral interpretation of the cultural stigma coming from xenophobia and a total shut-down of women's rights. Ezugha stumbled onto the set wearing an over-large shopping bag for a skirt, and began self-flagellating in front of us, all positioned safely behind the white lines. Rubbing her face-paint off in tears she clutched the two bags onto her head and sobbed silently in front of us, all the while the staccato blasts of noise depicting respectful silence and unanswered questions from Reetu Sattar's installation peppered the intimate, uncomfortable performance.
Finally it was time for the much talked about Reverend Billy & The Stop Shopping Choir, who had come from New York City on their Trump Depression Hotline Tour. Combining urban activism with evangelical preaching and a gospel choir, their sound was perfect for the Birmingham Museum and Art Gallery. Reverend Billy had the audience in the palms of his hands, as he pleaded with those present to take their individual agendas and activism and join them collectively in a global fight against consumerism and militarism. This performance wasn't just a one-off, they regularly occupy spaces around the world and have been thrown in jail for their cause many times, which seems hard to fathom given the love and inspiration they preach.
---
James Kennedy is a freelance writer with an MA in Writing living in Stirchley, Birmingham. He is currently working on a long-term non-fiction project called 'The Wind' , an personal account of Birmingham City Centre's regeneration and renewal. He likes to blog about the arts, is particularly interested in hauntology and psychogeography, and likes Nintendo, music and a cup of tea.