About Fierce 2017
Fierce is a biennial festival of Live Art including theatre, music, installations, public interventions, workshops, talks and digital projects. This year we will be featuring new commissions such as 'Notorious' by The Famous Lauren Barri Holstein alongside work from our artist development programme Fierce FWD, internationally acclaimed performances and collaborations with local organisations big and small; using venues from warehouses to theatres, galleries to the streets.
This year's festival runs from the 16th-22nd of October.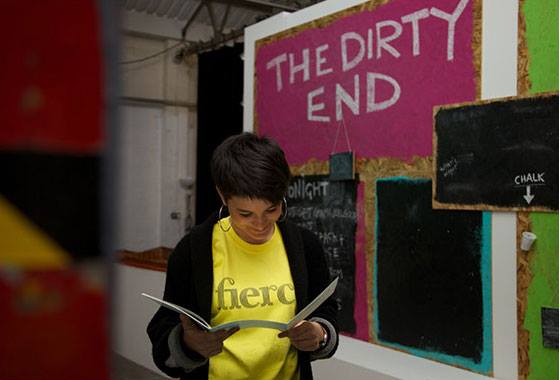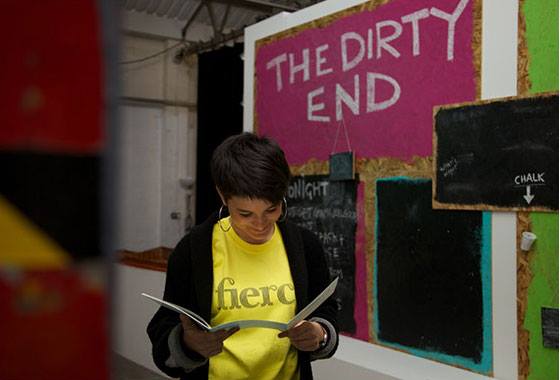 Why volunteer?
Become a part of Birmingham's most exciting arts festival.
Meet amazing artists and other like-minded people.
Get first-hand experience of working on a festival, developing the skills required to make performances and events happen.
Concession or free tickets to events (subject to availability), invitation to the programme launch, lead-in events and of course the post-festival knees-up.
What will you be doing?
Act as a main point of contact for information about the festival, the programme and the city for visitors from near and far.
Meet and greet audience members at installations, performances, and off-site projects (this may include ticket checks, and some clip-board brandishing – collecting website sign-ups, conducting surveys, etc.)
Provide support to the production team (may involve moving equipment, furniture, running errands etc.)
Assist with the running of the Hub space (may involve bar-work, selling promotional items, distributing brochures and maps etc.)
Specialised Roles
If there is a particular area you are interested in getting experience in or skills you really want to develop, please let us know in your email and our Volunteer Coordinator will be in touch about how we can help facilitate that.
Interested? 
You'll need to be 18+ to be eligible to volunteer for us. Enquiries and expressions of interest should be sent to volunteers@wearefierce.org with the subject FIERCE 2017 VOLUNTEERS. We will be in touch in the coming months regarding roles, training, and an initial meet-up.