Welcome to the first Volunteer View, a series of written responses to Fierce 2017 from festival volunteers.
Response to the Opening Night of Fierce 2017
by James Kennedy 
As a volunteer for Fierce 2017, I went along to the opening night at the Festival Hub (Quantum Exhibition Centre on River Street in Digbeth). Even as a long term admirer of performance art, getting back into the scene at 38 was going to be difficult. It was an opening night, and I was in the very essence of haute couture, green fisherman's jumper (with elbow patches), best jeans (M&S Autograph) trainers and big coat. There were a lot of very fashionable people about; but I must say that the speeches did their best to relax the entire audience and encourage them to bloody well enjoy themselves.
Indeed, it was a rousing speech by the artistic director Aaron Wright, adulating the team that had helped support the vision for Fierce 2017. He set out the agenda for the weeks programme: "Provoke: Politicise: Party". A week filled with some of the most exciting international live art performers of today, this would be an opportunity to audiences to examine what they get and don't get about performance art, and make them ask why.
Erin Markey (image by Manuel Vason)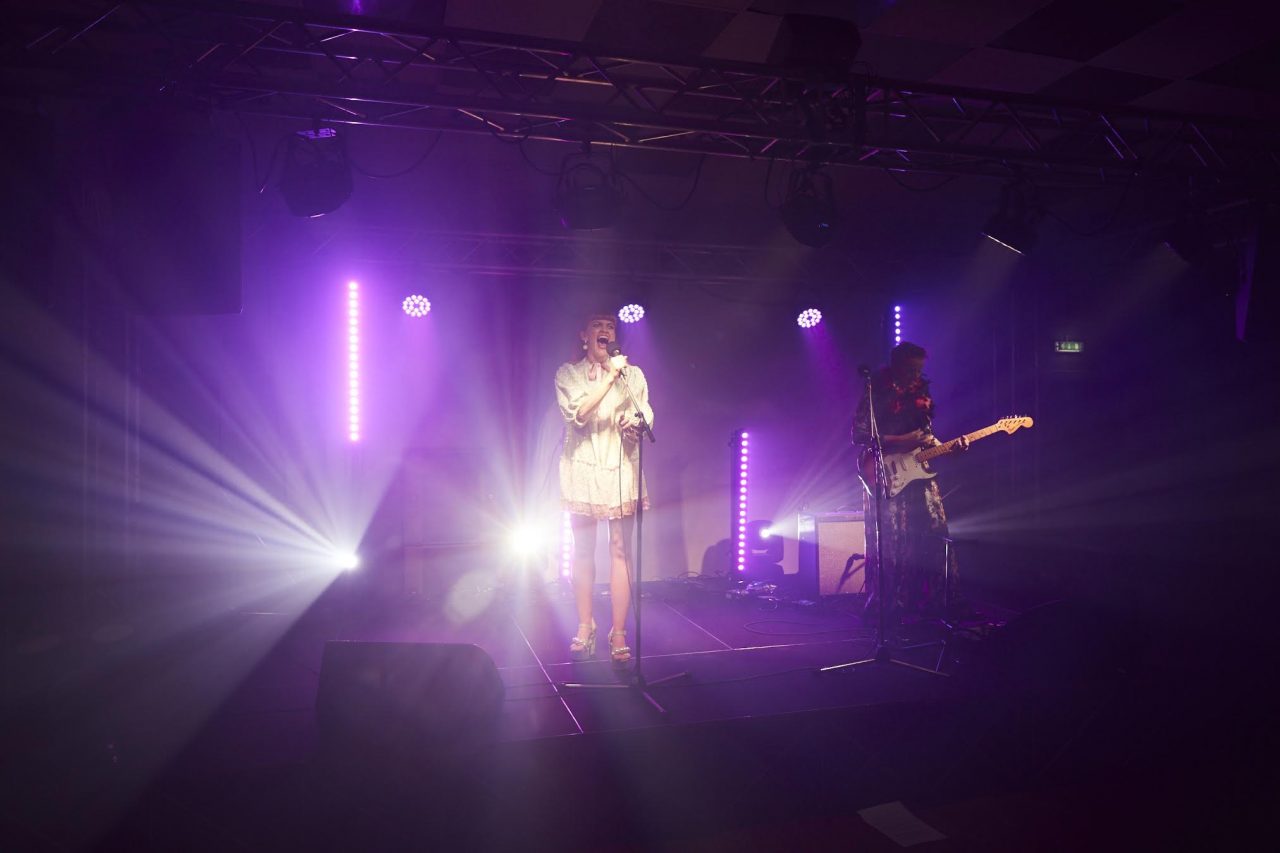 After Aaron left the stage, the audience was treated to a performance by Erin Markey, who is debuting her UK show "Boner Killer" at the Festival l on Thursday and Friday night. Tonight, we'd hear the story set to music from her previous show "A Ride on the Irish Cream" about the story of a girl refusing her mother's orders to follow the predestined route into tap class, and the different ordinations of tap that there were.  The story was excellently told, and made me fully want to launch into a closer study of Amercian folk culture, ritual and carnival.
Francois Chaignaud and Marie-Caroline Hominal's (image by Manuel Vason)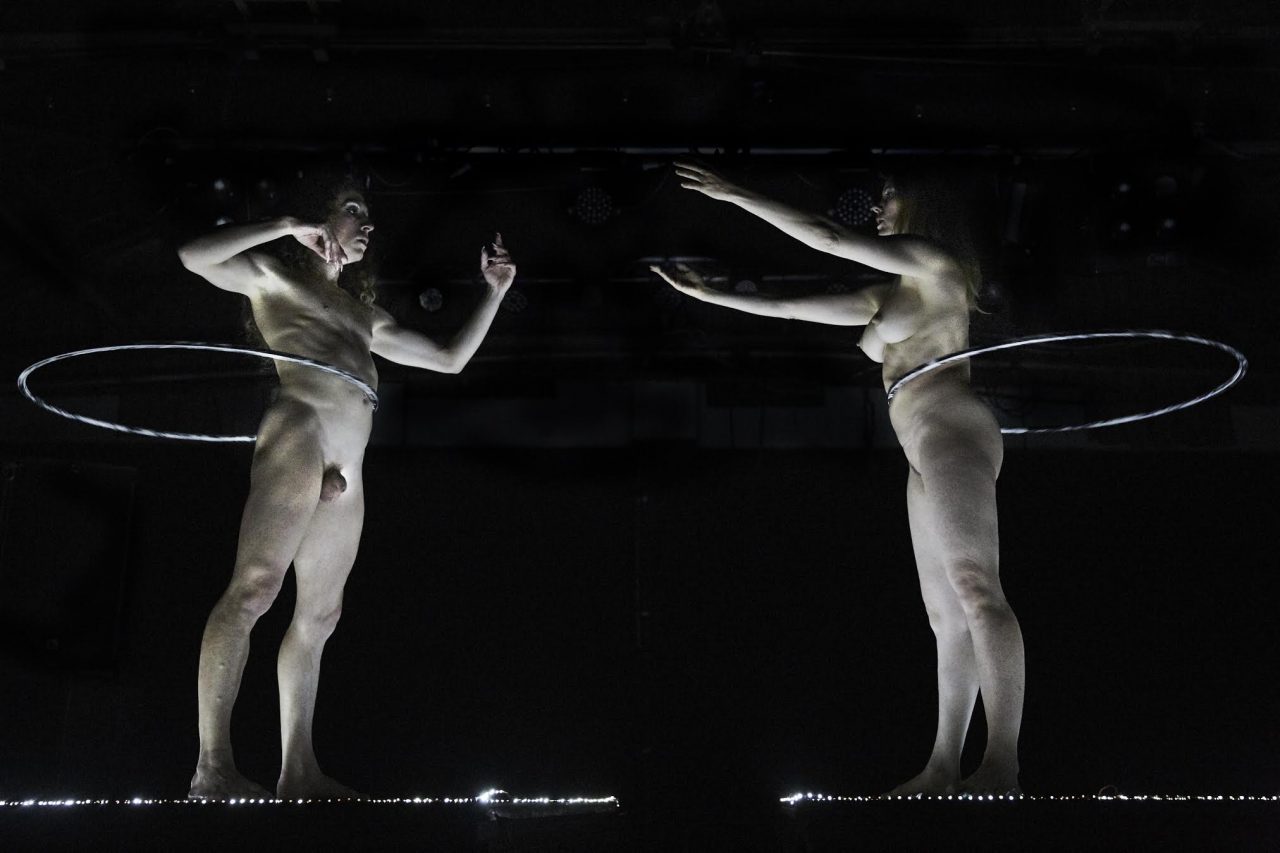 We were then told to go into the room behind the bar, and find our places on beanbags that were scattered around in front of two small stages. When everyone was settled in the lights went off, and for the next half hour we were in the hula-hooping realm of Francois Chaignaud and Marie-Caroline Hominal's UK premiere of Duchesses.
As a living sculpture, if you had the space and wanted to invest in some really contemporary art, you would quite happily have this pair in the corner of your living room gyrating in the nude, keeping their hula hoops in perpetual motion. At first, as spectators we were able to see their faces as they were cast in shadow, concentrating instead on the motion in front of us. Sitting on bean bags I got to think about how we must have appeared to Chaignaud and Hominal as they were locked in the moment of their gruelling performance. We all much have looked, out of the corner of their eyes like baggy rocks in a black desert.
It was a stunning feat of achievement to keep this spectacle up for so long, not only for the viewer, but also for the performer. There was no distracting soundtrack throughout the performance, and the vast majority of the crowd were in respectful silence with the occasional flash of camera, despite it being a drop-in performance. All we had was the noises of the effort that the performers were making, and the constant hum of the air conditioning around, adding to the surreal/hyperreal scene in front of us.
Ostensibly there could be a narrative, the man and the women hula-hooping repelling and attracting each other, sometimes the hula-hoops would meet each other and crash, and grunts of absolute effort began to fill the silence. In seemingly a shorter time than the 34 minute duration, the lights went out and the performance finished. And the reaction from everybody I heard said it was an absolute success. 
Splash Addict (image by Manuel Vason)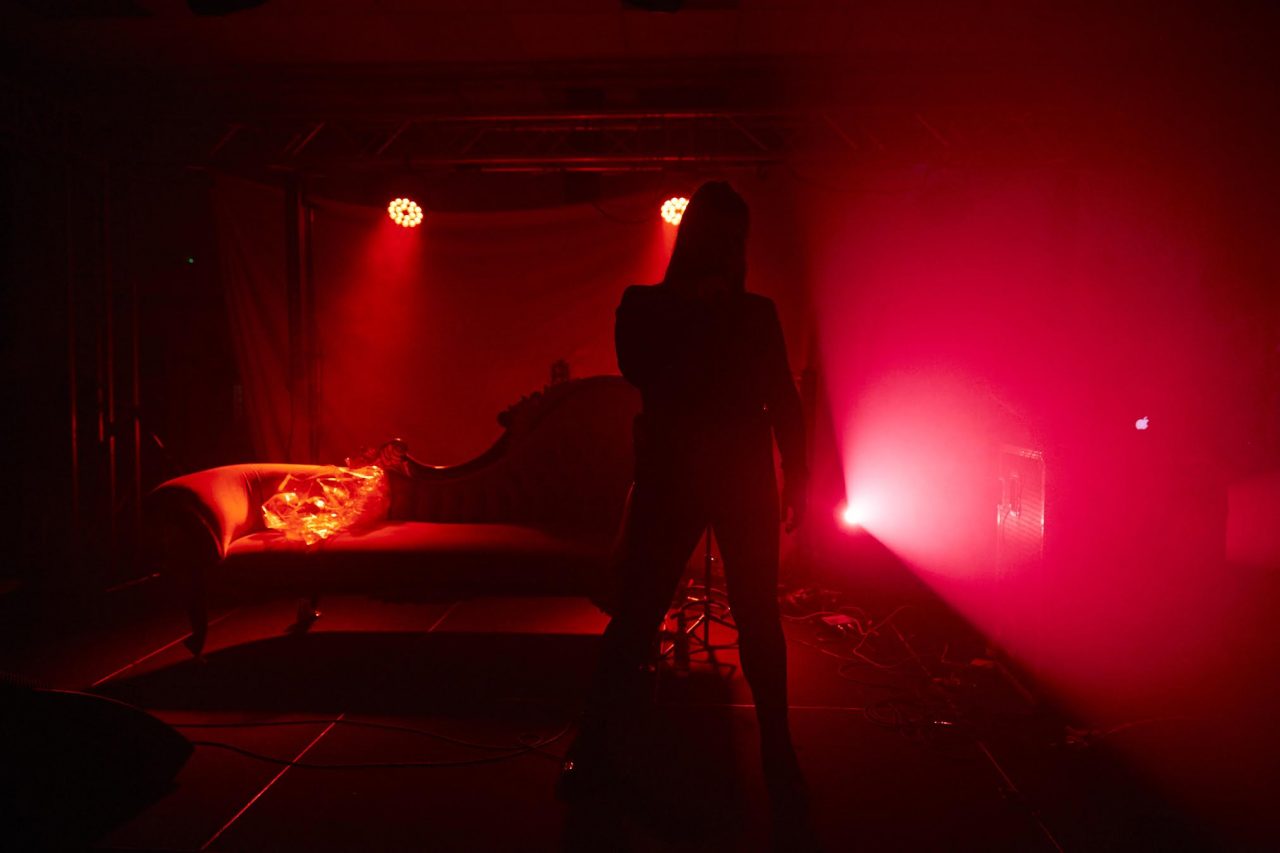 Before I talk about Splash Addict, a collaboration between Susie Green and Simon Bayliss, I have to say that both the lighting and sound that FIERCE have arranged for the hub (overseen by production partners Cloud One) was absolutely terrific, and completed the imagery set by Splash Addict incredibly.
The setting was sparse yet effective for the performance.  Disco lights, a stand for the synthesiser and a gigantic chaise longue in the middle. I didn't see the performers' entrance, but the crowd were soon enticed to get up to the front. Susie Green's commanding and laconic spoken vocals put into a classic performance very much in the spirit of a  Grace Jones, a Nico or a Miss Kitten, and Simon Bayliss' electronic sounds assimiliated the best of electroclash and minimalist techno, through a handful of incredibly poppy songs, even finishing off with a bit of Gabber at the end for good effect.
Susie Green's solo exhibition, Pleasure is a Weapon, examining the relationship between fetish and form, runs at Grand Union, part of the Minerva Works arts complex at nearby Fazeley Street until the 18 November, and is open from Wednesday to Saturday from 12-5pm.
Quarto (image by Manuel Vason)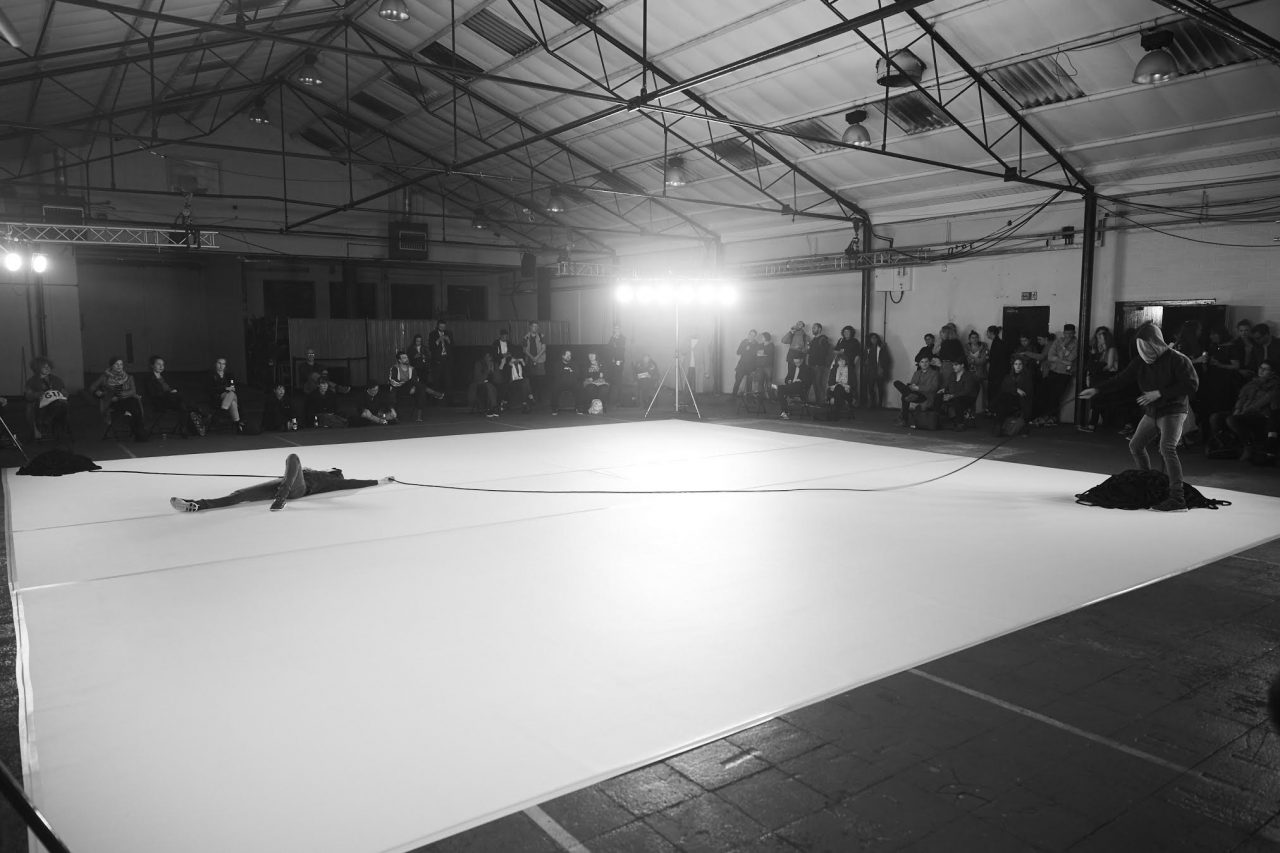 I saw a circle of spectators on plastic chairs in contemplative thought watching Quarto unravel and ravel the black 1,000-metre rope over the space under them. When I see something like this, I find it fascinating to think how many separate narratives are being constructed in the spectators heads of what this all actually means, philosophical feats of thought, how long should they stay for, or indeed if they'd remembered to get milk in for the morning. Indeed, Quarto's performance could have been seen as a representation of the way in which the human mind is constantly pulled apart, self-analysed and distracted in so many different and ever-increasing ways. Or, of course, many other things entirely.
Double Pussy Clit F*ck (image by Manuel Vason)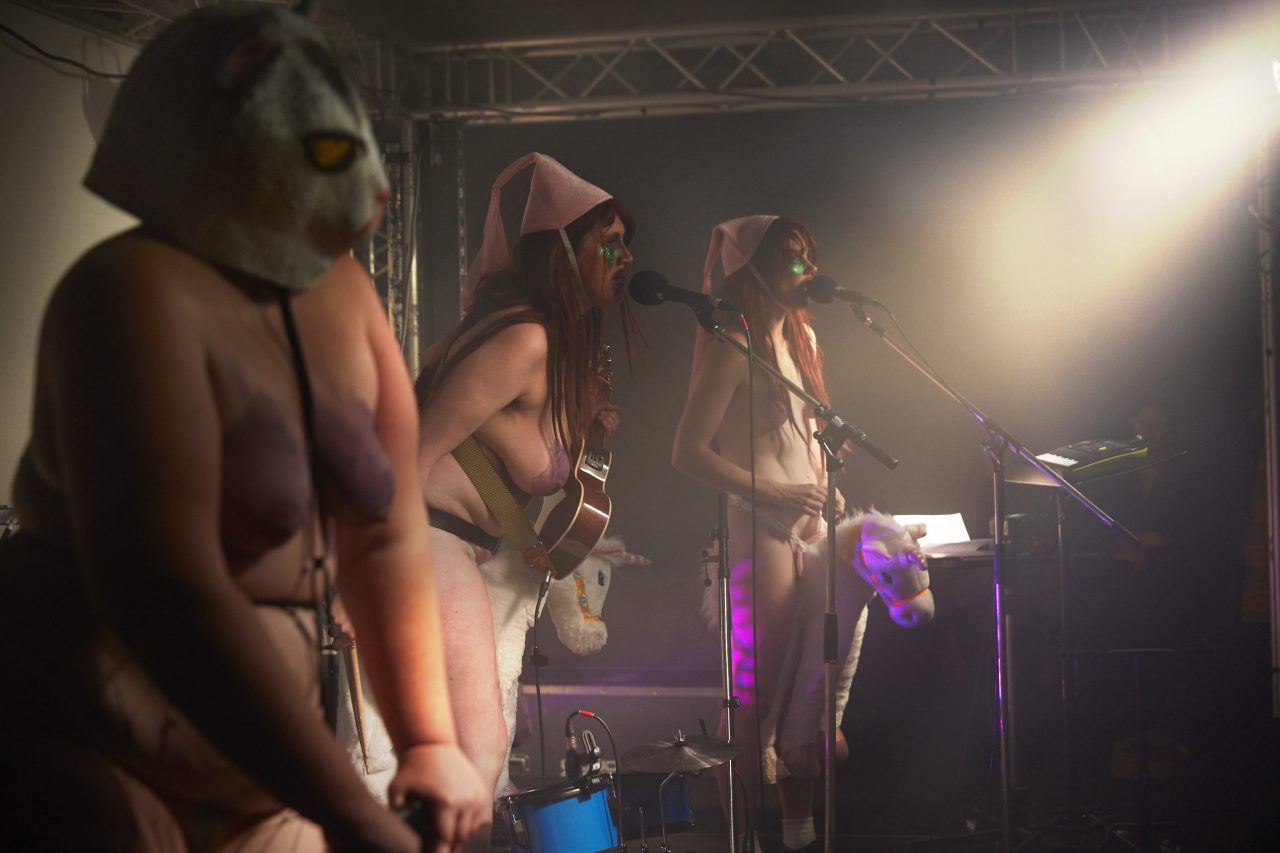 The stage was now set for (pause) Double Pussy Clit F#ck (nervous laugh.) I was excited to see these, being a fan of riot-grrrl in my youth, and enjoying its re-emergence in recent years with bands such as Texas's Sailor Poon and London's Skinny Girl Diet to name put a few. Searching on YouTube for a clip of their performance I was greeted with a lot of YouTube community approved pornography, which I didn't think was what I was after, however I did chance across another grrrl band by the name of Clitoris Rex (from Missouri) which again were very up my street.
But (pause) Double Pussy Clit F#ck (nervous laugh) were from Glasgow, and soon they arrived on stage to rapturous applause. A three piece, all pretty much in the nude with long black wigs, save for one on my left who had a bear mask on, who I believed was the Bez (or the bears) of the band, enticing the audience to dance their macabre but brilliant dance.
Instead of distorted guitars and spiky riffage, the enticing and repetitive music was played on a child's drum kit and synthesizer and and a ukulele, and the whole performance was that of absolute organised chaos and anarchy. A performance so in-your-face, fierce concentration was absolutely on the spectacle. The bands were totally in control and it was a great live performance, with the audience completely on side. I took a film of their penultimate song, which is all about loving someone so much you would like to make a leotard out of their skin, which is a pretty appropriate summing up of their sound.
---
James Kennedy is a freelance writer with an MA in Writing living in Stirchley, Birmingham. He is currently working on a long-term non-fiction project called 'The Wind' , an personal account of Birmingham City Centre's regeneration and renewal. He likes to blog about the arts, is particularly interested in hauntology and psychogeography, and likes Nintendo, music and a cup of tea.