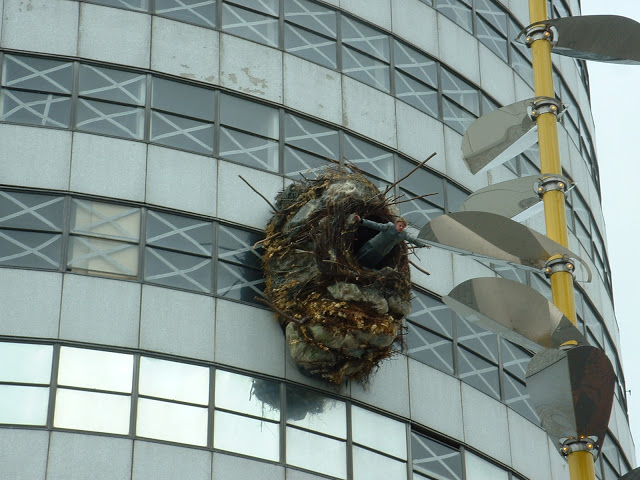 Fierce has been putting Birmingham and beyond on the map since 1998, when its first festival of theatre and performance originally launched as Queerfest. Founded by Mark Ball, who went onto be Artistic Director at LIFT (London International Festival of Theatre) 2009 – 2017, and then joined Manchester International Festival as Creative Director. It was renamed Fierce! Festival in 1999 with the strapline 'the festival that bites' – partly in response to a desire to be inclusive to an audience who craved the unusual, the edgy and the spectacular and also to reflect a more intersectional politic (before that word was even trendy!). Over the years, the festival, its audience and its notoriety grew.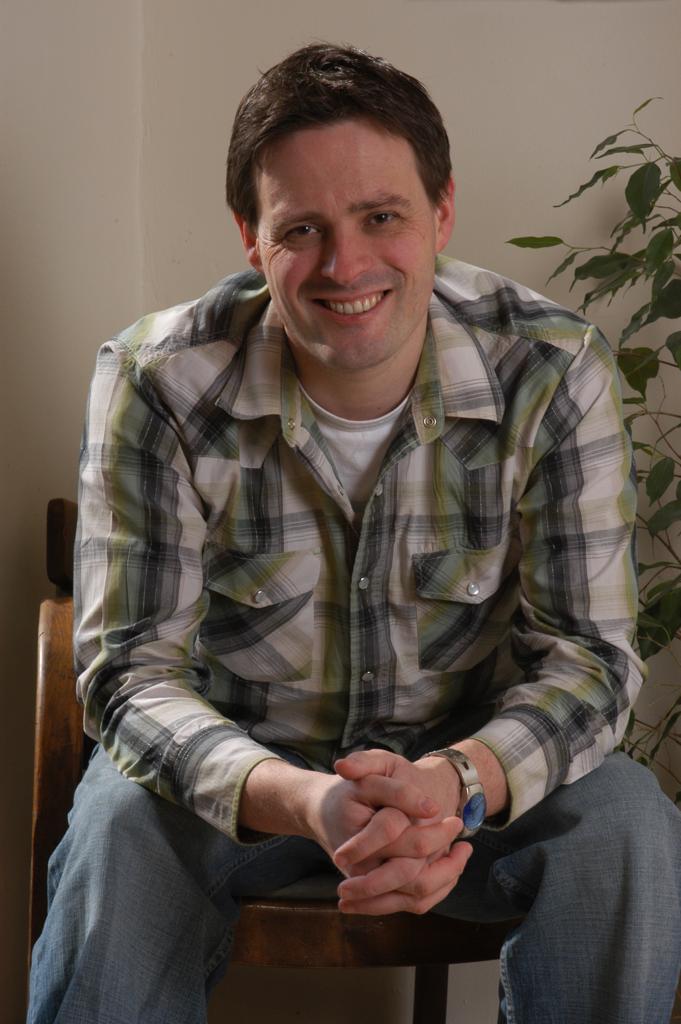 Highlights of the first ten years of Fierce included:
Benjamin Verdonck's The Great Swallow presented on the side of the Bullring Rotunda in May 2005 (pictured above), who locally became known as the Birdman of Birmingham.
'Play Me, I'm Yours' by Luke Jerram was commissioned by Fierce in 2008. The project place pianos on streets, in public parks, markets and train stations bearing the simple instruction to 'Play Me, I'm Yours'. With 15 pianos located across Birmingham for three weeks it is estimated that over 140,000 people played or listened to music from the pianos. Since then more than 1900 street pianos have been placed in 60 cities, which have been played and listened to by more than 10 million people worldwide. Each new city that commissions the artwork becomes part of this growing international legacy.
Fierce! Festival's tenth anniversary celebrations reached their climax with Revisions Of Excess. A reappraisal of the acclaimed Visions Of Excess event in 2003. Revisions Of Excess was co-curated by Ron Athey and Lee Adams. Taking place at the Pink Flamingo lap dancing club, Revisions Of Excess took the form of a series of works from a selecton of international artists inspired by the nihilistic writings of Jean Genet and George Bataille. Hosted by the inimitable David Hoyle, the line up of performers included, Kira O'Reilly, Veenus Vortex, Empress Stah, Valentina Violette of The Velvet Hammer Burlesque, Dominic Johnson, Ashley Ryder, Lazlo Pearlaman, Mouse & many more. Music by David TG (Torture Garden) & Kaos DJ's Dr Mu & Bradley Kaos plus visuals from Black Sun Productions, Suka Off & VJ Osku.
Name in Lights was a national competition by artist Joshua Sofaer with a glittering prize: the name of your choice spelt out in a giant illuminated sign in the centre of Birmingham (on top of the former Birmingham Library). In a format familiar from TV talent shows, thousands of nominations were submitted from up and down the country and judged by a panel of experts. These experts all depend on celebrity for their livelihoods, so they were well poised to pick a new one: Una White.
Jon Fawcett's Arc – a unique and whimsical moment in the lives of hundreds of office workers in the heat of a June afternoon as a cake was ceremoniously and unexpectedly delivered to them marking their place on an "Arc" through the city.
Nicole Blackman's BELOVED invited audience members to travel alone through Compton Verney on a journey which, through a series of encounters, stimulated personal memories of acts of kindness, both given and received, through the participant's lifetime.
Famously, 'My Fierce Festival' in 2008 let the audience curate the festival programme through an online vote!
In 2009 Mark left the festival and Laura McDermott and Harun Morrison took over as joint festival directors. The duo introduced a 'slow burn' programming model centred around developing and commissioning new works specific to the city, alongside national and international touring works reworked for Birmingham. They produced five editions of Fierce Festival as joint artistic directors between 2009 and 2015. Laura now works as Director of the Attenborough Centre for the Creative Arts and Harun works with Helen Walker, as part of the collective practice THEY ARE HERE.
Highlights from their programmes included:
Tania El Khoury's Gardens Speak is an interactive sound installation containing the oral histories of ten ordinary people who were buried in Syrian gardens. Each narrative has been carefully constructed with the friends and family members of the deceased to retell their stories as they themselves may have recounted it. They are compiled with found audio that evidences their final moments. The piece was commissioned by Fierce and has toured to over 18 countries worldwide.
Dachshund UN by Bennett Miller: A scale replica of the former U.N. office in Geneva, Switzerland, erected outside Ikon Gallery host to a unique meeting of the U.N.'s Commission on Human Rights, at which all 47 of the international delegates are live dachshunds, or 'sausage dogs'. Dachshunds are the only type of dog to have a 'racial variety' within the breed – there are smooth, long haired and wire haired dachshunds in all sorts of different colours. Dachshund U.N. is a playful and chaotic experiment; a meditation on the utopian aspirations of the Commission on Human Rights, and our capacity as humans to imagine and achieve a universal system of justice.
Graeme Miller's Track was an environmental work and moveable participatory installation that throws landscape through 90 degrees and sets it in motion. Situated under the iconic Spaghetti Junction, face-up and camera-style, the viewer is smoothly trundled by their individual 'grip' on a slow journey along a 100 metre length of dolly track and invited to gaze upwards. For the participant, the work creates a total shift in relationship with whichever environment it is installed, whether built or natural, indoor or outdoor. For the onlooker, that space is transformed by the vanishing tracks and the continuous, hypnotic motion of the viewers and the people pushing them.
Lundahl & Seitl's Symphony of a Missing Room was a guided museum tour of Birmingham Museum & Art Gallery where the visitors depart on both a collective and an extremely personal journey. Via wireless headphones, a voice takes visitors, led by performers, on an itinerary that traverses layers of physical and imaginary architecture of the museum and its curatorial space.
In 2016, Aaron Wright became Artistic Director and the first festival under his leadership took place in 2017. He produced three editions of Fierce Festival as artistic director between 2017 and 2023, as well as Key to the City and Healing Gardens of Bab – both of which took place as part of Birmingham 2022 Festival. Aaron now works at London's Southbank Centre as Head of Performance and Dance.
Highlights from Aaron's programmes include:
The Making of Pinocchio by Cade and MacAskill: Commissioned by Fierce, Kampnagel, Tramway & Vooruit with support from Attenborough Centre of the Arts, Battersea Arts Centre and LIFT, Produced by Arts Admin, is a true tale of love and transition told through the story of Pinocchio. Set in a fictional film studio, audiences are invited to go behind the scenes of Cade & MacAskill's creative process and their relationship, and question what it takes to tell your truth. It continues to tour extensively internationally.
Club Fierce: The Ho Down: a barn dance cum country fete, and Fierce's biggest party ever. Tokyo fetish legend Saeborg's performance Pig Pen took centre stage on the dancefloor, featuring a giant latex momma pig and her newly birthed humanoid piglets mingling with club-goers. The lineup also included performances by Zurich's Soya the Cow (as seen on Germany's The Voice); Margate's queer country icons Pink Suits; London-based drag artist Dairy King; and Montreal's Dulce Villano on the pole, complemented by local artist side-shows!
Healing Gardens of Bab: Princess, Picnic, Promenade: Presented in collaboration with Duckie, Princess, Picnic, Promenade was a highlight event of Healing Gardens of Bab – a 3 week programme of events which unfolded across the city during summer 2022. Featuring a mix of international and local artists – including Ginny Lemon, George Chakravarthi, Jaivant Patel, Bird la Bird, Krishna Istha, Kieron Jina, Francesca Millican-Slater, Ange Loft, Alaska B, EJ Scott and crazinisT artisT – this sell out 2 night takeover of the magical Botanical Gardens will go down in history as the best anti-Empire pikanik ever!
Key to the City: Paul Ramírez Jonas's public realm project gave everyone the chance to award the Freedom of the City to whoever they wanted to. For 10 weeks this city-wide project gave away 15,000 keys unlocking 21 private and intriguing places and spaces that participants might not have seen before – bringing a new perspective to the city.
Ghost Writer and the Broken Hand Break, Miet Warlop: One of the sellout shows of our 2019 Festival, this astounding work saw 3 performers spin in circles for 45 minutes, making music live as they spun. This experiment in perception nearly broke the speakers, creating a communal dizzy feeling and offering a reflection on the spirit of our time.
Lord of the Flies (Coronation), Preach R Sun: US based performance artist-come-activist, Preach, presented a 12-hour duration performance which involved him lying in a clear coffin
before dragging it through the streets of Birmingham to the steps of the city museum. Incorporating a million flies, a Perspex coffin and rotting fruit, this work was one of Fierce's most political and impactful performance art presentations.