Love Pikaniks, Hate Empire
Bring a picnic, dress up in your best clothes, tour the beautiful gardens and enjoy queer post-empire pop-up performance from Duckie Featuring artists from South Africa, Ghana, Canada, India, Australia and the UK
Starring Ginny Lemon, George Chakravarthi, Jaivant Patel, Bird la Bird, Krishna Istha, Kieron Jina, Francesca Millican-Slater, Ange Loft, Alaska B, EJ Scott and crazinisT artisT
"The amnesia about British Empire imposes an exaggerated historical distance between our lives today and the period of imperial rule"
Kojo Koram, Uncommon Wealth
Walls Come Tumbling Down!
Adults Only (18+), Bonnets Permitted
The gardens will open for picnics from 7pm, with performance from 7.30pm. The event will close by 10.30pm.
Access
On Friday 15th we will have increased access provisions for d/Deaf and hard of hearing people with BSL interpretation available, and for both performances we will have access hosts who will have noise cancelling headphones, easy read guides, etc.
Access Downloads
Click to download:
About the Event & Performances
This show is still in development. Some of the artists are visiting internationally and the week of the performance will be there first time rehearsing in situ. This means that some of the information in this Easy Read Guide is subject to minor changes.
Find more access information about the Botanical Gardens. Mobility scooters are available to borrow.
Tickets for this event are very cheap at a price of just £5 (cheaper than standard admission to the Botanical Gardens), so do please consider a £10 'Pay it Forward Ticket' which buys a ticket for yourself, and also buys a ticket for someone else to attend. To select your ticket type, click the ticket type to reveal drop down menu with other options.
Biographies
Ange Loft
https://www.angeloft.ca/
Ange Loft is an interdisciplinary performing artist and initiator from Kahnawà:ke Kanien'kehá:ka Territory, working in Tsi Tkarón:to. She is an ardent collaborator, consultant, and facilitator working in arts based research, wearable sculpture, theatrical co-creation and Haudenosaunee history. She teaches Story Creation at Centre For Indigenous Theatre (2021) and was the Artist in Residence  at OISEE/ JHI (2021). She's creating new performance work as Centaur Theatre's Artist in Residence (2021-22) and as director of the Talking Treaties initiative with Jumblies Theatre + Arts, with projects including; experimental film and workshop series Dish Dances (2021) in collaboration with Centre for Indigenous Theatre, video and installation By These Presents: "Purchasing" Toronto (2019), and outdoor promenade theatre Talking Treaties Spectacle (2017, 2018). Upcoming collaborations include Black Creek Pioneer Village's Changing the Narrative initiative (2022) and placemaking with the Canadian Centre for Architecture (2022). Ange's been the Associate Artistic Director of Jumblies Theatre + Arts since 2015 and a touring vocalist and designer with Yamantaka//Sonic Titan since 2012. She's holds advisory roles with Native Women In the Arts as a Board member (2021), OCAD University's Indigenous Education Council (2021), City of Toronto Indigenous Arts and Cultural Advisory for the Indigenous Arts and Culture Partnerships Fund (2018), and Toronto Biennial of Art Advisory Council (2018-21).
Alaska B
https://www.alaskab.ca/
Based in Toronto, Ontario, alaska has a Bachelor in Interdisciplinary Arts from Concordia University, a degree in Computer Animation from Sheridan college, and a passion for exploring the intersection between media and technology. Known for her problem solving skills, creative approach, and mix of expertise, her practice moves fluidly between digital media production, installation and musical performance. Her unique skill range has seen her trouble shoot as theatrical technician for large scale community engaged performances; produce and present her own animations and intermedia creations; and to build a striking musical catalogue that is grand in scope. As a composer and performer, her award-winning film and game scores (Canadian Screen Award 2019, Canadian Game Awards 2016) and songwriting (Polaris Prize nominated, Juno Awards nominated) have been heard all over the world. Her film work includes Through Black Spruce (2018) and Michael Shannon Michael Shannon John (2015). Her video game credits include Mark of The Ninja (2012) and the critically acclaimed Severed (2016, PS VITA, 3DS, WiiU, Switch, iOS).
Bird La Bird
https://www.birdlabird.co.uk/
Bird la Bird is an artist who straddles comedy and performance art. Drawing on her love of history and art Bird has created highly popular queer people's history tours of the V&A, Tate Britain, the National Portrait Gallery and the City of London.
E-J Scott
https://www.e-jscott.com/home/media
E-J Scott is a curator, cultural producer and academic and was awarded the UK's Museum Activist Award 2020/21. He is the founder of the museumoftransology.com and the British Digital Art Network (Tate/Paul Mellor Research Centre). He is Stage 2 and 3 Leader of the BA (Hons) Culture, Curation & Criticism at Central St Martins.
Kieron Jina
https://kieronjina.com/
Kieron Jina, based in Johannesburg, South Africa, specializes in performance art, choreography, photography and video art to tell personal stories that are underpinned by activism and to challenge stereotypes. He has an MA in Drama from the University of the Witwatersrand, Johannesburg. Jina was awarded Mail & Guardian's 200 Young South Africans: Arts and Culture, category for performance art. Furthermore, he was awarded danceWEB Scholarship at the ImPulsTanz – Vienna International Dance Festival. Jina has won multiple awards including the Ovation Award for choreography at the National Arts Festival & the Goethe-Institute International Coproduction Fund to create "Down to Earth" at Tanzfabrik Berlin. Jina completed artistic residencies that lead to collaborative performances and art creations in Brazil, Germany, Austria, France, Réunion, Nigeria, Tanzania, South Korea and Switzerland. He is the founder and curator of Queer Art Night South Africa and is currently touring with "#FemmeInPublic", "Down to Earth" and "PINK MON€Y".
Jina is creating more spaces for art that exists for people of colour (POC) and indigenous performance practices from different African regions. Jina is particularly interested in the challenges and complexities of the transitional millennial generation — a generation that experienced the end and fall of apartheid only to be flung into a country still grappling with its own trauma and healing. Jina studies this dynamic particularly in their exploration of the shifting identities of queer people of colour, a group that features centrally in their work.
Healing Gardens of Bab Funders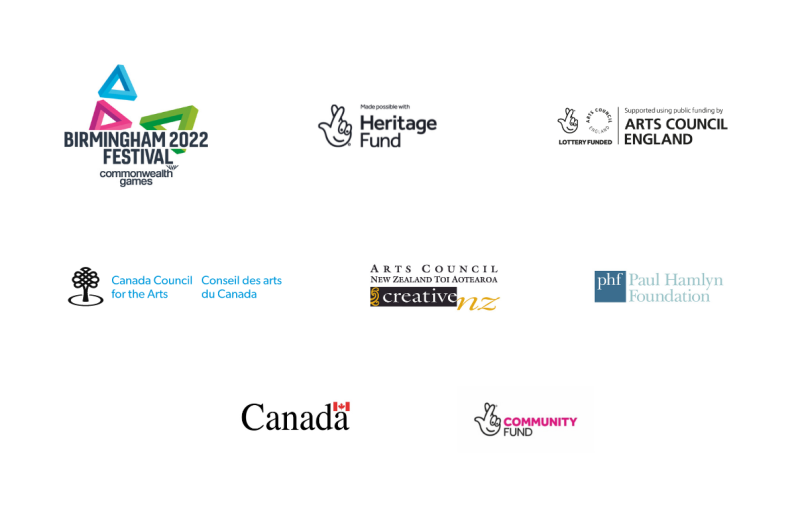 Fierce Says
We love Duckie - perhaps best known for their Saturday night residency at London's Royal Vauxhall Tavern and winning an Olivier award! They haven't been to Birmingham since Fierce's 10th Birthday in 2007, when they threw us a horrible "children's party" hosted by David Hoyle. This will be unmissable!