How serious are the promises we make to one another, the vows we take, or the pledges made by our civic leaders?
For 8 days, in Birmingham, Public Trust asks participants to examine the value of their word. Participants declare a promise that is recorded in a drawing they can keep. They are asked to give their word in a way that's consistent with their beliefs, such as swearing on a sacred text. That promise is published on a monumental marquee board, placed amongst promises made by politicians, scientists, economists, companies and weather forecasters, all chosen daily from headline news.
Public Trust by Paul Ramíres Jonas is part of Birmingham Festival 23 and runs daily (11am-9pm) from 29th July – 5th August 2023. Please note on Sunday 30th July the event finishes at the slightly earlier time of 7:30pm.
Across the week there will be a number of staff and volunteers who speak different languages so if your first language isn't English and you would find it easier to make your promise in another language, please ask and if someone is available to help in your language they will.
There will be a BSL interpreter available at all times (see video above for an overview of the project in BSL).
Watch the documentary from when Public Trust took place in Boston, USA
FREE TO ATTEND.
Funded by: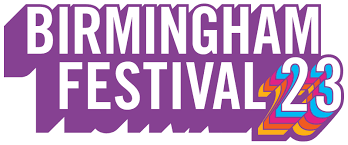 Artist Biography
Paul Ramírez Jonas was born in 1965 in Pomona, California, and raised in Honduras. He earned a BA in studio art from Brown University (1987) and an MFA in painting from Rhode Island School of Design, Providence (1989).
Ramírez Jonas's work ranges from large-scale public installation and monumental sculpture to intimate performance, video, and drawing, and traces the universal aspiration to an elusive perfect world. From driving west in pursuit of the sunset (Longer Day, 1997), to recreating failed flying machines (various projects, 1993–94) and transcribing the communications of the Apollo space mission (Men on the Moon, Tranquility, 1990– ), his practice is characterised by a bracing, albeit nostalgic, idealism rooted in a faith in human resilience. Sensitive to the processes of globalisation, he reveals its simultaneous tendencies towards interdependence and exclusion.
Exploring the parallels between various public gathering spaces, Ramírez Jonas's drawing series Admit One (2010–13) and Assembly (2013) chart a typology of assembly halls, churches, cinemas, stadiums, and theaters that underscore the fundamental nature of the human need for connection. In The Commons (2011) and Ventriloquist (2013), the artist revived the monument (here the equestrian statue and the portrait bust, respectively) as a vehicle for communication by replacing the form's immutable granite or marble with cork—a material that is both degradable and the traditional medium of community noticeboards.
Key to the City (2010) was a citywide intervention in which twenty-five thousand keys to private or normally inaccessible spaces throughout New York City were bestowed on certain individuals in a special ceremony, revealing that culture can still be a freely shared experience, while also highlighting the increasing privatization of urban space.
Ramírez Jonas has had solo exhibitions at Artists Space, New York (1990); White Columns, New York (1992); Jack S. Blanton Museum of Art, Austin, Texas (2007); Aldrich Contemporary Art Museum, Ridgefield, Connecticut (2008); and the Pinacoteca do Estado, São Paulo (2011). Selected group exhibitions include Fluxus Attitudes, New Museum of Contemporary Art, New York (1992); inSite_05, San Diego and Tijuana (2005); The Quick and the Dead, Walker Art Center, Minneapolis (2009); Barely There (Part II), Museum of Contemporary Art, Detroit (2011); Caribbean: Crossroads of the World, El Museo del Barrio, New York (2012); and Shine a Light 2013, Portland Art Museum (2013). He has also taken part in the Johannesburg Biennial (1995); Seoul Biennial (2000); Shanghai Biennial (2006); São Paulo Biennial (2008); and Venice Biennale (2009). His honors include grants from the National Endowment for the Arts (1991), Art Matters Foundation (2009), and Joan Mitchell Foundation (2009), as well as a Howard Foundation Fellowship (2009).
He is Professor and Chair of the Department of Art at Cornell University College of Architecture, Art, and Planning (AAP).
Ramírez Jonas lives and works in New York.