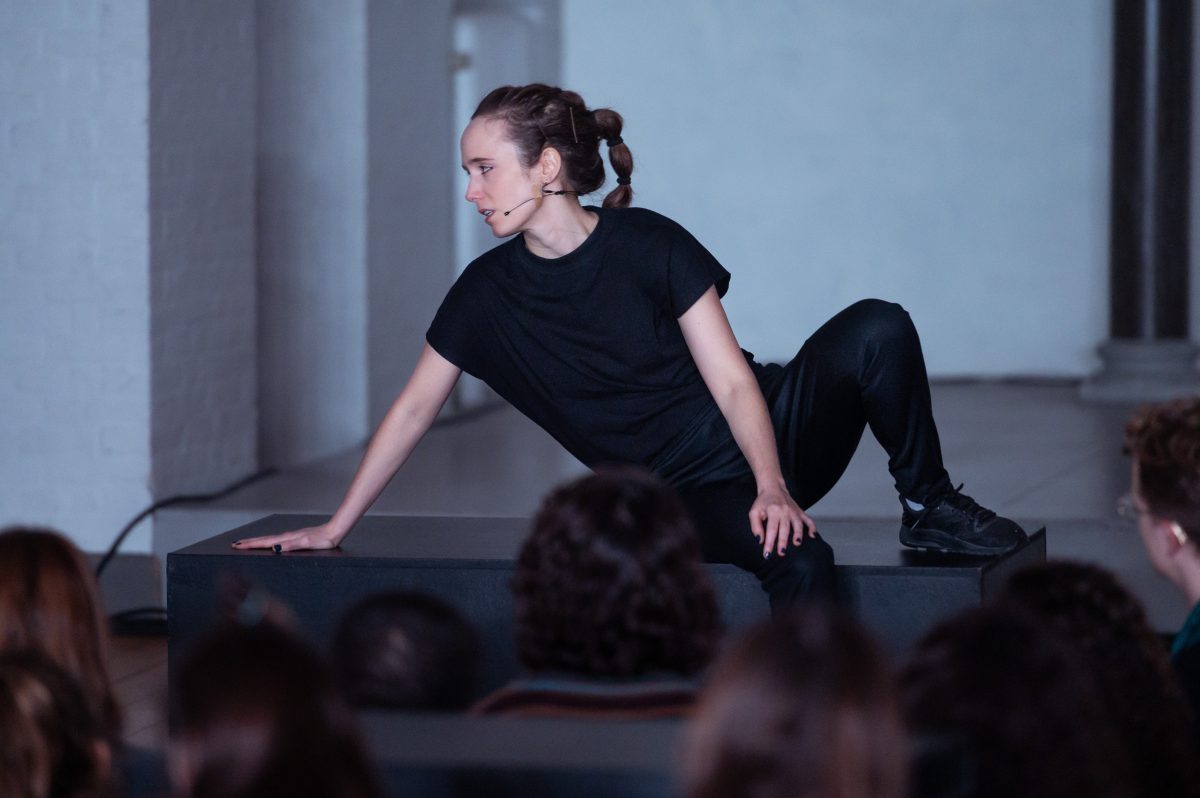 Fierce & Flanders are longtime bedfellows. Flanders is a world leader when it comes to performing arts, with countless acclaimed companies emerging from the region. Ontroerend Goed, needcompany, Rosas – they're all from Flanders! Over the years we've presented the work of dozens of Flemish artists in Birmingham: Kate McIntosh, Begüm Erciyas, Louis Vanhaverbeke, Miet Warlop to name just a few.
This year we're deepening the relationship. With generous support from the Diplomatic Representation of Flanders, we're presenting a Flanders Focus of artists living and working in the Flanders region and performance supported and produced by organisations based in the Flanders region.
Whilst many people have a memory of Fierce, perhaps the most legendary Fierce event of them all was by Benjamin Verdonck, in a near mythic performance that got given the local title of the 'Birdman of Birmingham'. Verdonck, dressed as a bird lived in a giant beautiful bird's nest, Installed on the side of the famous Bullring Rotunda. Over the course of a week a narrative played out, with ground level audiences looking up to see the spectacle unfold. Eggs appeared, feathers were thrown, and finally a leap from the nest with only a police outline to be found.
This year Fierce is back in the Bullring, shedding new light on the famous location, but from a very different perspective with The Golden Age, an archaeological tour of the shopping centre by artists Tomas Gonzalez and Igor Cardellini. This work has been supported by the Arts Center Vooruit – now called VIERNULVIER – in Ghent and KANAL-Centre Pompidou, Brussels. The Golden Age is interested in the Shopping Centre: designed in the 20th century, they contain within them models of organisation, circulation and scenography that inspire wonder, confidence, security and discipline.
Art Happens, a performing arts agency based in Ghent, have established themselves as one of the world's leading agency's for the performing arts. Amongst the Art Happens family are leading figures of theatre and dance including Trajal Harrel and Ontroerend Goed. We're delighted to collaborate with Art Happens to present the UK debut performance of one of their artists: Alice Ripoll & CIA Rec, with their incredible show Lavagem. Lavagem has been co-produced by Kunsten Festival Des Arts (Brussels), amongst others. It's a fantastic show and we're honoured to present their UK debut.
Thirdly, we're delighted to welcome Lisa Vereertbrugghen, a dance artist based in Ghent, who has recently joined the CAMPO family of artists. We'll present her work SOFTCORE a hardcore encounter, which has been co-produced by STUK in Leuven and BUDA in Kortijk amongst others, with additional support from Workspace Brussels and CAMPO. We're thrilled to welcome Lisa for her UK debut performances. It continues a line of enquiry at Fierce that considers electronic music subcultures and ecstatic communion on dancefloors.
Finally, another debut, this time Francesa Grilli, an artist based in Brussels, with her brilliant and surprisingly affective work Sparks. Sparks counts STUK (Leuven), Kaaitheater (Brussels), Level Five Artistic Ecology (Brussels) amongst it's co-producers. Sparks continues another line of enquiry at Fierce – performance performed by children. Sparks creates a space where the usual power relationships between the child and the adult are inverted. The children become oracles; bearers of mystical knowledge; wielders of magical powers.
In recent years Fierce has enjoyed making closer working relationships with partners in Belgium, not least with VIERNULVIER who, alongside Fierce and Take Me Somewhere (Glasgow), have co-commissioned The Making of Pinocchio. Through this international co-production we've been able to allow artists Cade & MacAskill to be more ambitious with their work, creating a show for bigger theatre spaces.
We can't wait to share these standout performances from Flanders!