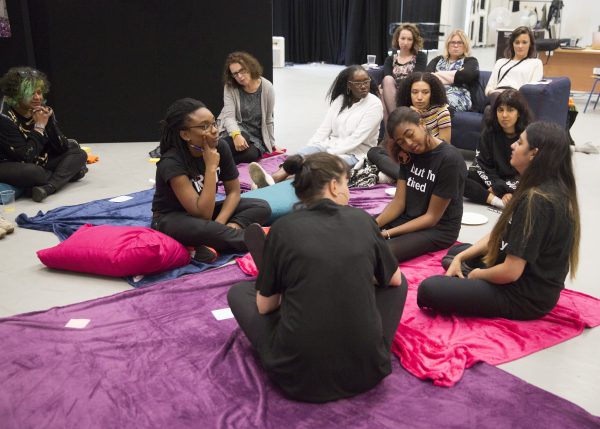 At Fierce access for all is important to us, we are committed to making Fierce Festival accessible and below are the services we are able to office for Fierce 2017. We know these are limited and can be improved, so we would like to hear your comments and feedback to help us as we continue to improve this. We also realise that sometimes people need things not on this list – if that's you – please contact us and we'll do everything we can to meet your requirements.
You can contact Fierce to discuss any access requirements by emailing pippa@wearefierce.org or calling 07933 596010.
Wheelchair Access
All festival venues have provision for disabled audiences and are accessible for wheelchair users, with provision of disabled toilets, with the exception of Moseley Road Baths. We will present Eca Eps – From Chibok to Calais at Moseley Road Baths which does not have step free access or disabled toilets.
Assistance Animals
Assistance animals are welcome throughout the festival. So we can ensure we provide the best facilities for you and your assistance animal, please let us know at the point of booking.
Hearing impaired audiences
BSL interpreters will be working on:
Aaron Williamson – Demonstrating the World, Saturday 21st October, Victoria Square, 12pm -6pm
Demi Nandra – I'm Sick and Tired of Being Sick and Tired, Sunday 22nd October, Birmingham Conservatoire, 3pm – 7pm
Everything Fits in the Room is a non-verbal piece, presented at the Hub on Saturday 21st (4pm) and Sunday 22nd October (4pm). There will be a BSL signer at the venue on Sunday 22nd October to meet and greet signers and answer any questions they might have.
In addition, there are a number of performance which are non-verbal including:
Simone Aughterlony & Jen Rosenblit – Everything Fits in the Room
Last Yearz Interesting Negro / Jamila Johnstone-Small – i ride in colour and soft focus, no longer anywhere
Financial accessibility
Fierce have worked hard to keep ticket prices as low as we can, and have included concessionary rates for the majority of events. Where individuals travel with a companion, companion tickets are offered free of charge.
In addition, there is a number of events which are free to access including:
Be the Change: Late at the Edwardian Tea Room
and durational works (so you can drop-in at any time throughout the performance):
I'm Sick and Tired of Being Sick and Tired
Invisible disabilities
If you have invisible disabilities and your needs are not met within the provision laid out here, and you would like to discuss any specific access requirements relating to this, please do get in touch directly.
Meet-Ups / Discussions
Fierce FWD artist Suriya Aisha is working with Fierce to hold two sessions considering access as part of her wider project, Horizontal. Sessions will be in a closed space at Centrala (a short 2-minute walk from the hub) and will have some light refreshments available and some music. They are an informal space for groups to meet up, share and reflect on their experiences of the festival.
10.30am – 12pm – Disability / Access Discussion
12.30pm – 2.30pm – People of Colour meet-up
Getting About
We have programmed a number of pieces within a 5-minute walk from our festival Hub, Quantum Exhibition Centre, including
$elfie$ at Ace Dance and Music
This Ritual is not an Accident at West Midlands Creation Centre
The Listening Choir at Stryx (please note this is a walking tour piece)
Black cabs are managed by TOA who can be contacted by calling 0121 4278888 or visiting www.toataxis.co.uk
Uber assist and Uber access are both available in the city through the Uber app. More information about these services can be found here: www.accessibility.uber.com
Parking
Please see details of available disabled parking at our partner venues by following the links on the relevant venue website detailed below.
At our hub venue there is free on street parking available directly outside the venue, this can get busy, so in addition we have spaces at our offices (approximately 3 minutes from the venue). If you would like to use this parking please contact us on the details provided.
Partner Venues
Information about accessibility from our venue partners:
See details from Birmingham Repertory Theatre
See details from Patrick Centre, DanceXchange, Birmingham Hippodrome
See details from mac Birmingham
See details from Birmingham Conservatoire